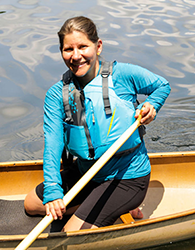 At the beginning of the pandemic, my tween daughter was the dancer in my house. When her in-person hip-hop class was canceled, she quickly turned online for inspiration, showering me with her 30-second Tik Toks.
I was amused, but resolute that dancing online was not for me. I had my own exercise regime, at the heart of which were a series of Pilates-based exercises that I had incorporated in the hopes of healing a nagging injury.
But now, 16 months into the pandemic, I'm dancing online too, maybe even more than my 12-year-old. This is thanks to Esther Gokhale and her unbelievably fabulous community who, like me, wanted to find a safe, therapeutic, and fun way of exercising after injuring our backs.
I first heard Esther years ago on a podcast and subsequently checked her book 8 Steps to a Pain-Free Back out of the library. I remember being especially interested in the pictures of women holding their babies so comfortably; I had recently given birth, and I tried my best to imitate the women pictured. Read more