This past summer I had the wonderful opportunity to visit the Teaching Drum Wilderness School in the north woods of Wisconsin to teach a Gokhale Method Foundations Course. Teaching Drum has year-long immersion programs, designed to foster awareness in self and community, as well as teach wilderness skills such as hidetanning, basketry, primitive cooking, and lodge construction.
As an organization, we always honor requests to send a teacher when a community can commit to filling at least one course of eight students in their community. After I received this request from Teaching Drum, it was only a matter of logistics to set up the dates. I was also able to give two Free Workshops to nearly 50 attendees in nearby towns, graciously arranged and very well publicized before my arrival.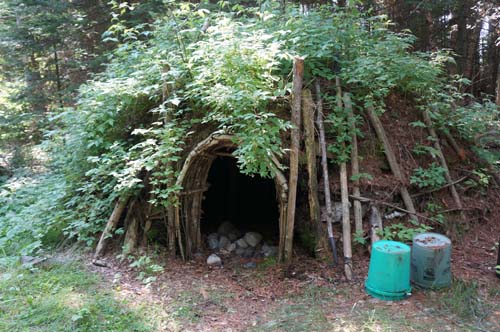 Examples of their summer (left)/ winter (right) lodges,
built from primitive materials, with minimal impact
As the Gokhale Method is an anthropologically and historically founded method that articulates the postural movements of past generations, primarily through Gokhale Method Foundation courses as well as 8 Steps to a Pain-Free Back; Teaching Drum is similar, articulating and teaching the Circle Way of native peoples in their wilderness immersions and literature available at the school. What I found there, as a teacher, was that these modern people going back to the Circle Way were able to recapture some postural wisdom just in the doing or from others that have ventured similarly, and yet some postural wisdom was painfully missing (pardon the pun!).
Sitting on the ground and squatting are very common at Teaching Drum. However, all of the students had grown up in modern culture with chairs substituting for squatting and limiting the total flexibility available in their hip, knee and ankle joints even as adults. This encouraged a habit of sitting relaxed and slumped, upright and tense, or alternating between the two. By teaching the anatomy of the J-spine, this is easy to avoid: for sitting, a wedge or other implement can support a well-positioned stacksit. On our last night at dinner together, everyone in the room had a pillow, mat or rolled up tanned hide to support them. Similarly, with squatting we can raise our heels off the ground or utilize a squat on one side with the other knee down, allowing the pelvis to settle well while maintaining the integrity of the J-spine.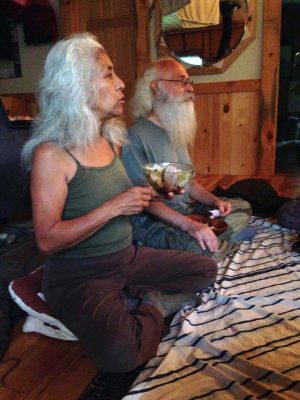 Lety and Tamarack stacksitting while eating
at Teaching Drum
At Teaching Drum, many students had very open chests and were comfortable with their shoulders well back. This was consistent with the open and positive attitude with which they approach each day and each member of their intentional community. However, there is a counter motion that is often overlooked; we call this the rib anchor, or the subtle action of tucking in the rib cage to elongate the lower back. What the rib anchor allows is a taller and more engaged self. This action, in coordination with opening up the shoulders and elongating the neck, is a physical manifestation of our most forward and present self. As the members of Teaching Drum practice attunement, this action – reinforced many times during the Gokhale Method Foundations Course – was a gift to share with them and it was well received.
Glidewalking is always fun to teach, but I have never had a group of students pick it up so quickly! Students in the Teaching Drum wilderness immersion courses spend a lot of time practicing balance and keeping the weight on their heels so they can navigate with a front foot: imagine walking on a narrow trail in the woods at night and having to feel for the path in front of you without seeing at all! Needless to say, finding and engaging their gluteus medius muscles while walking came with ease. Also, they teach their own wilderness students a way of walking called "zero straddle" that emulates the way native people walk. In our courses, we call this "walking on a line." They reported that zero straddle, or walking on a line, it is the most balanced, most efficient way of walking, with the added benefit of having a minimal impact on the natural environment. We agree!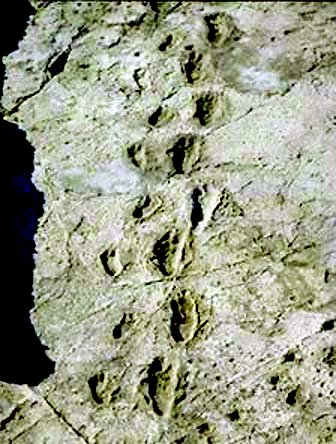 All in all, my family and I had a great experience at Teaching Drum. As always, my students were a pleasure and watching their progress is always rewarding. Beyond that, we hiked out to their native camps, shared in their community meals, tanned a squirrel hide, foraged for dinner greens and wild tea leaves to take home… It's hard for me to believe that this wonderful community invited me to come to them. Then again, I have experienced so many gifts as a Gokhale Method teacher over the past several years. This is only the most recent addition to that list!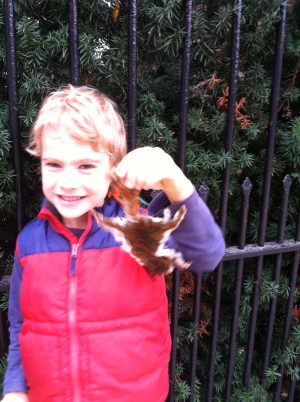 Parvis, my son, with the squirrel hide
Best,
Janine Farzin, Gokhale Method Teacher in Chicago