Gokhale Method Institute staff member Annie Rempel sat down with teacher Kathleen Marie to listen to and document her journey with the Gokhale Method. Below are excerpts from their conversation.
___
From dancers to physicians, the breadth of skill and experience held by Gokhale Method teachers is nothing short of impressive. As I've continued to learn from and about those who make up our teaching community, one name seems to come up again and again: Kathleen Marie. As one of Esther's early teacher trainees, Kathleen exemplifies the diverse wealth of knowledge held by those drawn to teach our method.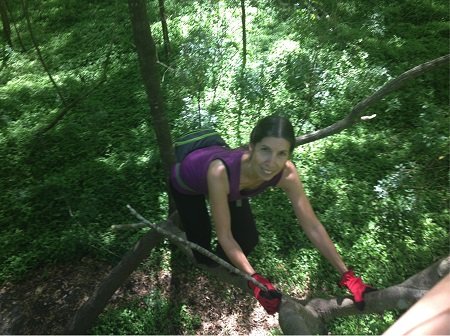 To Kathleen, aging gracefully means she is able to remain active and spend time doing the things she loves - like being outdoors, climbing trees, and playing with her grandchildren.
Like so many, Kathleen was first attracted to Esther's book after experiencing lower back pain. In 2008, Kathleen and her sons had opened a Santa Fe style restaurant. In addition to making delicious carne adovada, calabacitas, and sopaipillas, the physical demand of keeping a restaurant afloat took a toll on her back and sent her in search of answers.
Before going into the restaurant business or even hearing about the Gokhale Method, Kathleen had an established love for the healing field. As a registered nurse, she fulfilled her desire to help people, but explains that taking vitals, administering medicines, and cleaning wounds didn't satisfy her aspiration to address deeper issues in health and wellness.
One of the things I became aware of is that western medicine focuses on treating symptoms and not really getting to the core of what people are dealing with. With the Gokhale Method, I can finally be in a profession where I am helping people and not only that, I am helping people at the core to help them get back to a healthy lifestyle.
In addition to her experiences as a nurse and restaurateur, Kathleen is the mother of five. In many ways, she attributes her success as a teacher to her strength and perspective as a single mother.
I think you can more easily see the world through kids' eyes when they are small. It's a whole different way of seeing the world. Similarly, when I work with students, I try to see through their eyes and teach the method in a way that helps each person get the technique in their body.
After taking the Foundations course in Portland with Esther, completing teacher training, and becoming a qualified teacher, Kathleen spent two years teaching at the Gokhale Method Institute in Palo Alto, California.
I got so much experience both teaching in Palo Alto and at the center. The first year I travel taught. I was in Chicago, Seattle, L.A., San Diego, Wisconsin. It was great. I really got a sense of being a mobile teacher and that's what I do in Florida now. It was really an interesting study. Depending on where I was, people had different issues. For example, people in Chicago walk a lot so they had really strong glutes. People tend to hunch over in cold places. In the south where it's warmer, people tend to have better upper body posture.
Kathleen's home base is now in Oregon, but she spends half the year in Florida and continues to travel teach in both states. She currently has courses listed throughout Florida and Oregon, as well as in Ottawa, Ontario. But she hasn't let the restaurant owner in her slip away just yet. She still runs Zia, a food booth in the summer with her sons in Corvallis, Oregon. She also helps her husband with his booth, Ali Baba's Tribal Treats.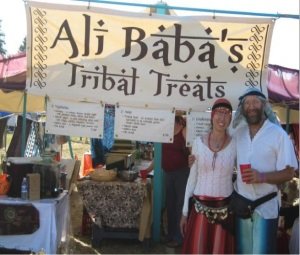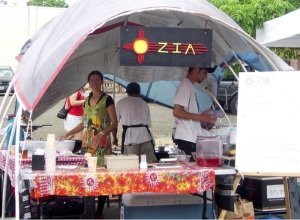 "If I see my son bending over with poor posture when picking up big things at the booth, I will call him out."
When not cooking at the booth or teaching, Kathleen keeps herself plenty busy spending time with grandkids and working on her own movement and posture.
Being a Gokhale Method teacher has allowed Kathleen the freedom to spend time with her grandchildren by travelling between the coasts for six months at a time. As a teacher, she is not limited to teaching in any one area, so she can work when and where she wishes, while still contributing meaningfully to her family's earnings, the wellbeing of her students, and the good of society.
One of the things I am most grateful for from the Gokhale Method is the ability, at age 63, to keep up with my grandchildren. In Florida, I climb trees with my grandchildren, play soccer with my grandson, jump on the trampoline with my granddaughter. In Oregon, I take care of my newborn grandson for a few hours a day, and spend the night once a week so my son and his wife can sleep the whole night.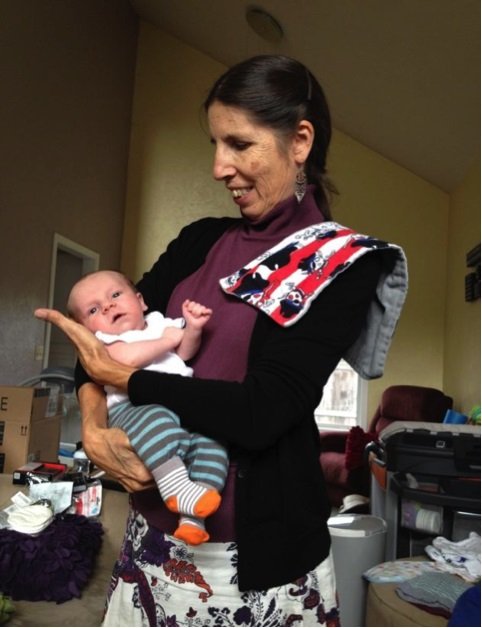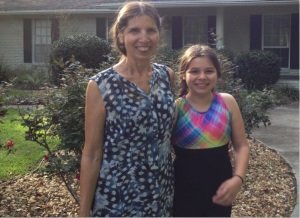 "My granddaughter will often point out poor posture to me at the grocery store 'Grandma, look look!'"
The Gokhale Method has restored the confidence Kathleen has in her body. She believes if she had not restored her primal posture, she would be timid about joining her grandchildren in all their physical activities.
My body feels very strong. People ask me if I am a dancer. I laugh and say no. Then I explain that's what happens when you take the Foundations course – you are confident in your body and move with grace. I feel like I will be able to age gracefully because my posture is in place now.
Interested in becoming a Gokhale Method teacher? Email [email protected] or visit gokhalemethod.com/teach for more information.