The much-loved Gokhale® Pain-Free Chair was launched in 2012, celebrating the philosophy that sitting is a natural, healthy activity. This office chair was designed to facilitate stretchsitting and stacksitting, two key techniques of the Gokhale Method® that transform sitting into a comfortable activity that heals you rather than hurts you.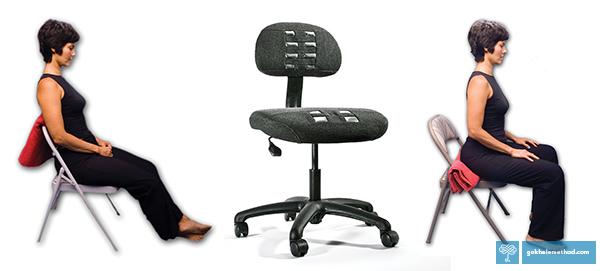 The Gokhale® Pain-Free Chair has many features that facilitate the therapeutic techniques of stretchsitting and stacksitting once their principles are understood.
The need for an executive chair design breakthrough
But some of our students, alumni, and members of the public asked us for recommendations for an equally comfortable executive chair—one that allows for leaning back with neck support. We gave our best guidance on what features to look for, and which to avoid. I also offered Live Chats on sitting and written blog posts about seating options—two examples being How to Choose a Backrest, and Comparing and Contrasting the Herman Miller Aeron Chair and the Gokhale Pain-Free™ Chair.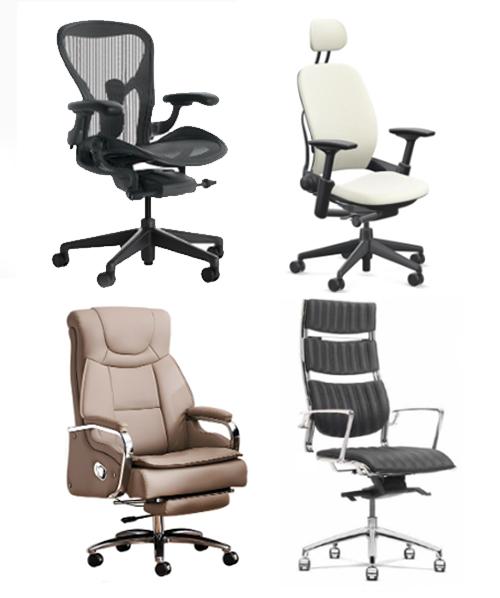 The Herman Miller Aeron Chair (top left) is a market leader, and there are a myriad of other brands, designs, and specifications to choose from. Images from: The Herman Miller Aeron Chair, The Leap Chair, Litfad Executive Chair, Laporta Executive Chair
The features we consider healthy in an executive chair are rarely all available in one package. Many common features, like lumbar curves which distort the spine, bolsters that round the shoulders forward, and head rests that crane the head forward, are problematic and difficult to work around.
We are now delighted to be able to offer our own Gokhale® Executive Chair solution.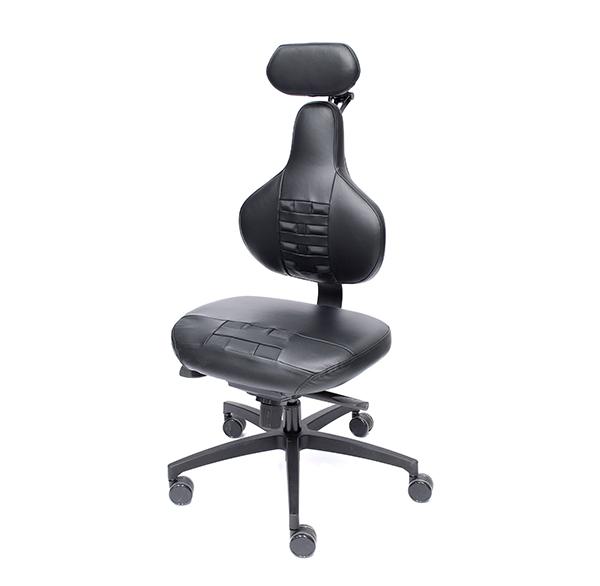 The Gokhale® Executive Chair
About the Gokhale® Executive Chair
Our regular Gokhale Pain-Free chair works well as a home or office chair, but for a professional working long hours, a well-designed executive chair offers additional, relevant features. For example, it isn't always practical for a busy executive to take a walk outdoors, lie down on the floor, or relax in a nearby cafe. But they still need to reflect, reset, and refresh.
The Gokhale® Executive Chair provides this. At the pull of a lever, the backrest smoothly angles back and even rocks a little for a profoundly relaxing pause or deep-thinking time.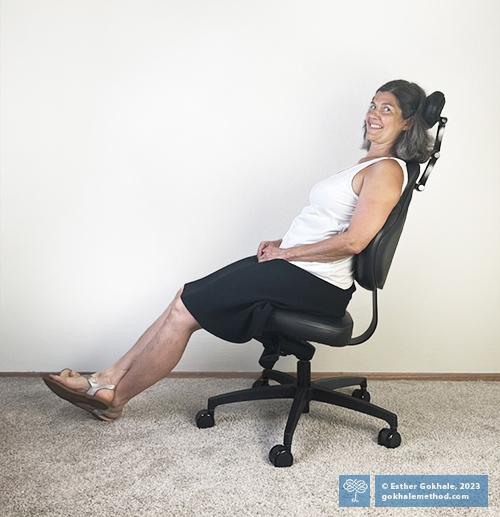 The reclining function of our chair combines particularly well with cutaways which allow your shoulders to rest back, the stretchsit nubs on the backrest that enable you to gently traction your back, and a headrest that helps to elongate your neck.
We decided to make the Gokhale® Executive Chair a high-end offering. It is crafted in luxurious Italian leather (also available in high-quality fabric) and quality materials for comfort and durability. It has an adjustable headrest, adjustable back height, cutaways in the shoulder area, and my favorite recline function.
The guiding principles of Gokhale Method design
This chair blends form and function attentively. Its contemporary look belies the fact that its design is based on the timeless principles of healthy human posture. Its purpose is to not only allow you to sit elegantly and comfortably for as long as you wish, but also to bestow all the therapeutic benefits of time spent sitting well.
Most of the executive chairs on the market are designed to appeal primarily to the dictates of fashion. There is a parallel situation with shoe design; fashion does not always respect what is compatible with our structure. Additionally, from a Gokhale Method perspective, chair design often reflects conventional ideas on how to sit, which is also at odds with our natural structure.
Many designers—and consumers—are constrained by well-intentioned but misguided ergonomic principles like the S-spine paradigm. This is why almost all adjustable chairs come with excessive lumbar and neck curvature. Our chair is different because it is shaped by our knowledge of the body's natural J-spine architecture to provide exceptional comfort and healing. No other executive chair that we know of has a J-spine paradigm informing its design. The Gokhale® Executive Chair is also uniquely compatible with all the posture principles and techniques taught in our comprehensive Gokhale Method courses (the in-person Foundations course, or one-day Pop-up course, or our online Elements course).
Let's take a close-up look at the posture-enhancing features that enable users to sit in ways that are comfortable and therapeutic.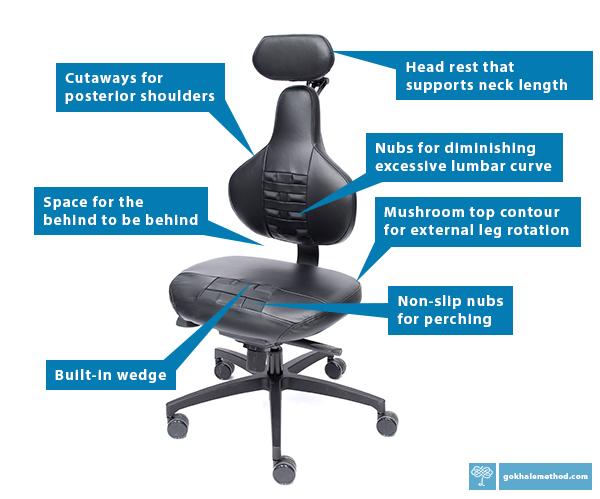 The Gokhale® Executive Chair works for you so that you can work in comfort.
In the video below Gokhale Method Teacher Sabina Blumauer gives her first impressions of the Gokhale® Executive Chair.
You can order your Gokhale® Executive Chair here.
Best next action steps for newcomers
If you would like to know which posture changes will help you be pain-free and functional, schedule an Initial Consultation, online, or in person.
You can sign up below to join one of our upcoming FREE Online Workshops. . .