This is the second post in our series on home exercise during shelter-in. For Part 1 on Chair Pose, click here!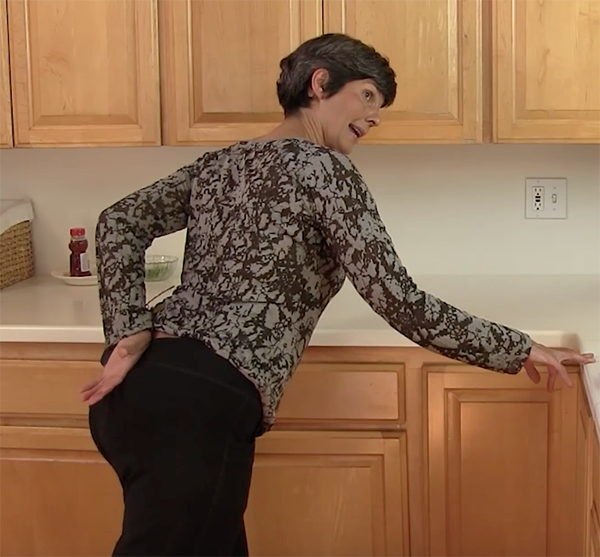 The gluteus medius is an oft-overlooked muscle which supports healthy posture and attractive appearance. Thankfully, we can learn to tone and strengthen it through targeted exercise.
Exercise is wonderful not only for keeping us strong and healthy, but also for relieving stress and anxiety. Now that gyms are shut down again here in California, home exercise is even more important than ever before. In the first part of this series on home exercise for shelter-in, we focused on how to approach Chair Pose as a means to build strength and maintain healthy posture, no equipment necessary.
In today's installment, we'll focus on an exercise I've devised over the years designed to isolate and strengthen the oft-overlooked gluteus medius. This muscle is almost always underdeveloped in people who've been raised in industrialized cultures. But it is an important player in gait, running, and athletics. It also helps with balance and fall-prevention as we move through the world, no matter our age. And it's "behind" all the peachy, perky behinds out there in the world!
Equipment needed: a chair.
Directions for each side:
Start with a bean-shaped foot and externally rotated legs so all the right muscles are getting strengthened and stretched. 

While maintaining external rotation in both legs, leave one leg on the floor, lean forward, and extend the other leg out behind you.

If you need help, by all means support yourself by holding on to the back of a chair. At this point, your gluteus medius will be strongly contracted.

If you don't lean on a surface, you will be challenging gluteus medius on both sides. Glut med works to sustain the raised leg of the same side; the other is working to preserve a horizontal pelvis. If you don't activate the gluteus medius on the standing leg, you'll be sinking into the posture. It takes the glut med to keep the pelvis horizontal on the weight-bearing leg side.
Posture tips: 
Make sure the lifted leg has the knee turned out (externally rotated). That isolates the glut med. 

Don't let your back sway. Use the internal oblique abdominals to prevent any sway in your lower back.

Lean forward, but only as much as you need. 

Remember that the back of your neck is part of your spine, so be sure to let it feel long, like a continuation of the spine.

Don't forget to do this exercise on both sides so both gluteus medii are strengthened and toned.
If you're feeling especially zesty, and don't need to stabilize with a chair back, you can give yourself another layer of challenge by slowly and carefully hopping in a backward circle on the standing leg. You can even add arms, which helps with balance while in motion and adds a dancelike element to the exercise. I love this variation.
For a deep dive into strengthening exercises you can do at home, plus a one-on-one live follow-up session with a Gokhale Method teacher, don't miss tomorrow's special Premium Workshop, Strengthening Exercises - The Gokhale Way! I look forward to showing you how to approach home exercise with healthy posture, improving your form and preventing injury.
What have you been doing to keep yourself strong during quarantine?