Are you beginning to wonder if you will need to set up your bed in the living room? Do you think twice about visiting places with stairs? Do you have a friend or older relative facing this kind of challenge?
Welcome to our second post on navigating steps and stairs. Our first post looked at how to power yourself up stairs—this one talks about how to come down stairs. This kind of "life exercise," done skillfully, can be transformative and gives many benefits beyond getting you to where you want to go.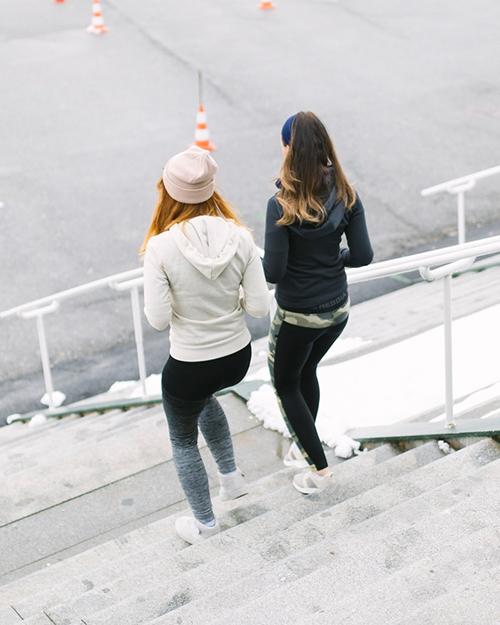 Going down stairs is a functional exercise that doesn't need a gym. Freepik
Walking downstairs gets you fitter than walking upstairs!
Dr Michael Mosley, a well-known BBC health journalist, has a favorite study that had people walk either up or down the stairs of a 10-story building twice a week, using the elevator in the other direction. Both groups saw improvements in many health outcomes—but those walking down the stairs—perhaps surprisingly—did better. They were fitter, had a lower resting heart rate despite doing less cardiovascular exercise, lower insulin sensitivity, lower blood fat levels, better bone density, superior balance, and twice the improvement in muscle strength. You can read more about the benefits of eccentric rather than concentric muscle action here.
Safety first
Whatever your fitness and mobility level, follow these measures to use steps and stairs safely:
Use a handrail if appropriate

Watch out for slippery or unsound surfaces and trip hazards

Wear well-fitting, non-slip shoes
Start with your stance
When descending stairs, it's especially important to maintain a well-balanced stance from start to finish. You want to position your body in a shallow zigzag squat, or "ready position." We teach this stance in detail in our in-person Foundations and Pop-up courses, and our online Elements course. As the name suggests, this stance makes us available for action and quick reaction.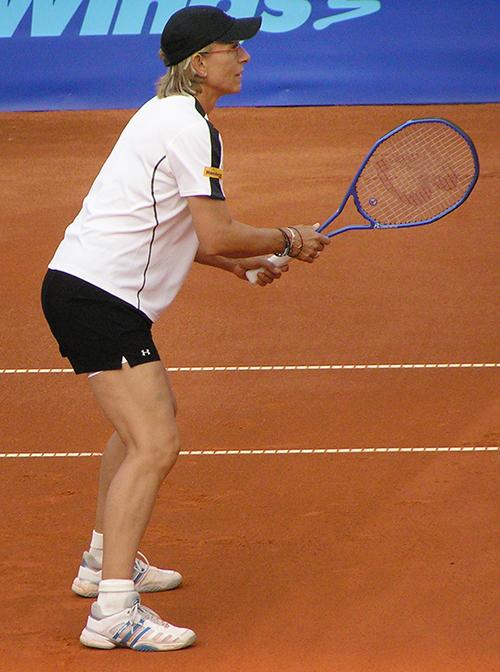 A zigzag stance or "ready position" readies us for dance, sport, or stairs. Martina Navratilova ready for the ball, ECM Prague Open, 2006. Wikimedia
The benefits of a zigzag stance for walking down stairs
Having your behind behind with your torso angled forward from the hip joint while descending stairs has several benefits:
It keeps your center of gravity further back so you are less likely to fall. By contrast, if you tuck your pelvis, your center of gravity goes further forward, making it more likely you will slip. This is familiar to anyone who has been on a ski slope.

Your head aligns over your feet, allowing you to see where you are placing your feet more clearly.

It makes it easier to antevert your pelvis and direct body weight through your knees in a healthy way.

It is good practice for other activities like bending, sitting, squatting, and more.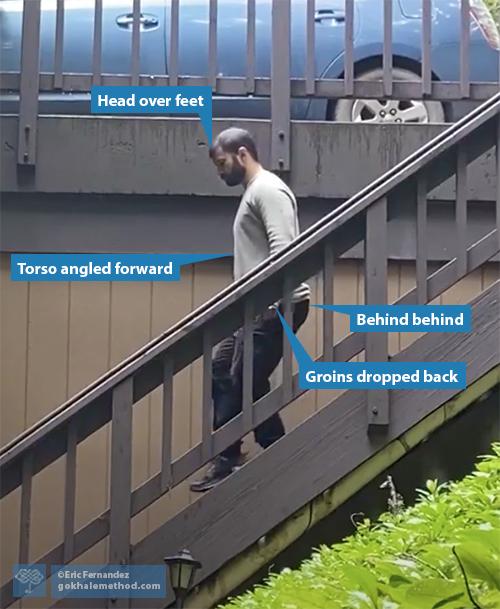 Gokhale Method teacher Eric Fernandez descends steps maintaining a zigzag stance.
Your glutes help you keep your balance
In coming down steps and stairs your glutes contribute to the important job of stabilizing your hips, pelvis, and sacroiliac joints. Together with other muscles they play a key role in keeping you balanced over your standing leg as the other one is smoothly lowered to the next step. The importance of our glutes for achieving stability through the hips and pelvis is one of the areas of convergence between conventional advice and the Gokhale Method®. Having your behind behind you in a zigzag stance enables the glutes to work optimally.
Try hovering in your zigzag stance for a while on one leg—you will soon feel your glutes working. Be sure not to tuck your pelvis, as this interferes with the glutes' stabilizing ability.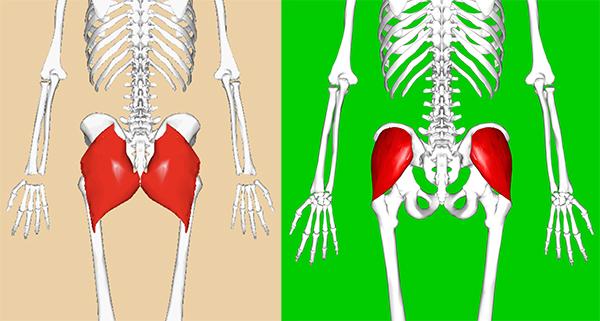 Knowing where your buttock muscles are situated can help you visualize them working: gluteus maximus (left) and, underneath it, gluteus medius (right).
The quadriceps lower you down—as well as take you up
When descending stairs, the back leg quadriceps work eccentrically to lower you with control as your front foot approaches the step below.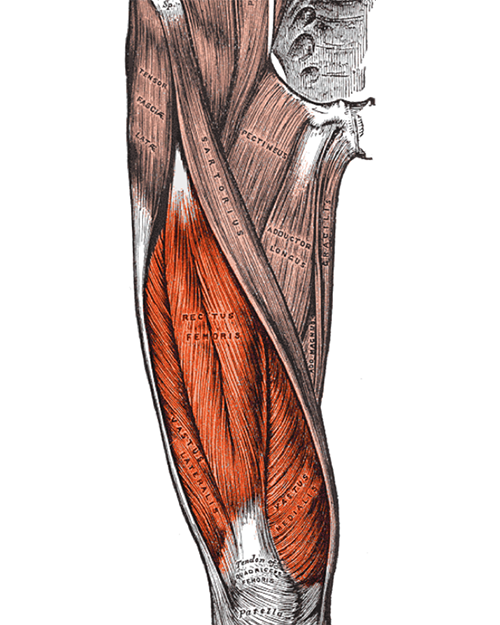 The "quads" are four muscles on the front of the thigh that insert at the knee. Wikipedia

Notice the quads of the supporting back leg working to lower the body's weight.
Externally rotated feet v. internally rotated feet
Another important ingredient in coming down stairs is external rotation of the feet and legs. This is the natural angle for the feet, and encourages optimal alignment of the knees, hips, and pelvis.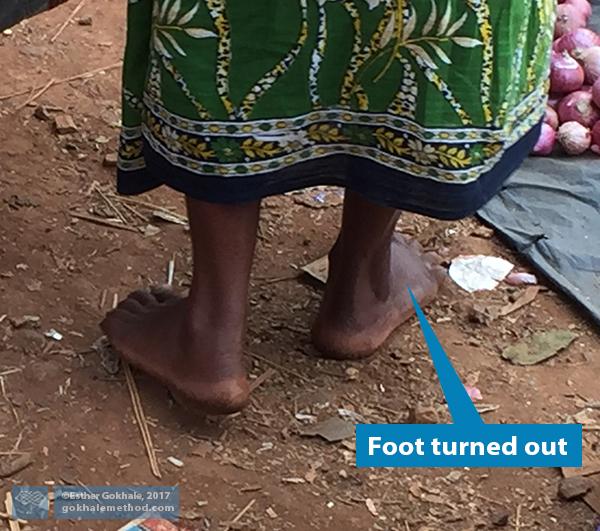 The feet of this woman in Odisha, India, have retained a healthy angle outward.
Externally rotated feet are also preferable to feet straight ahead as this enables more of your standing foot to contact the step securely while you lower your other leg.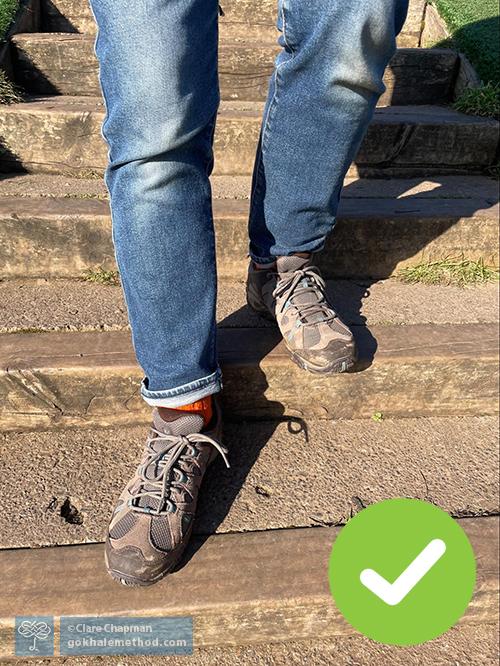 Externally rotated feet encourage healthy alignment of both the foot and leg.
Internally rotating your feet will, over time, collapse your arches, and create bunions and knee problems. You will also be more likely to trip over your toes. If you currently have this habit, adopt a mild turnout of about 5° to give your muscles and joints time to adapt to change. You can read more about foot angle here.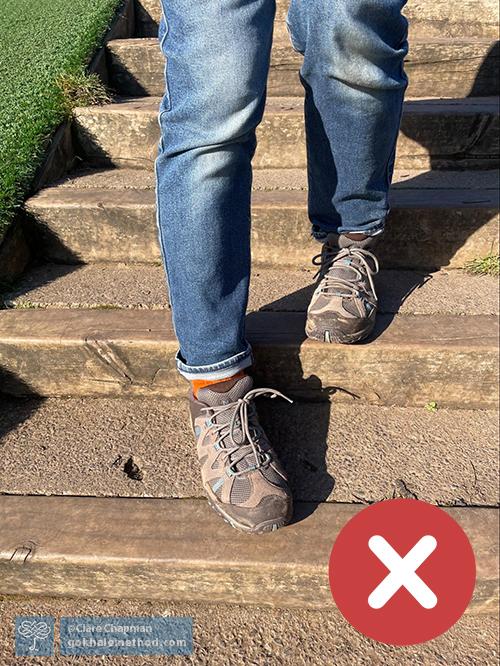 Internally rotated feet are problematic for your structure, and your safety.
Best next action steps for newcomers
If you would like insight on your posture, consider scheduling an Initial Consultation, online, or in person.
You can sign up below to join one of our upcoming FREE Online Workshops. . .