This is the first post in our multi-part series on floor sitting. For Part 2 on squatting, click here.
Sitting cross-legged on the floor is common in many cultures around the world, and has become popular in some segments of modern Western societies.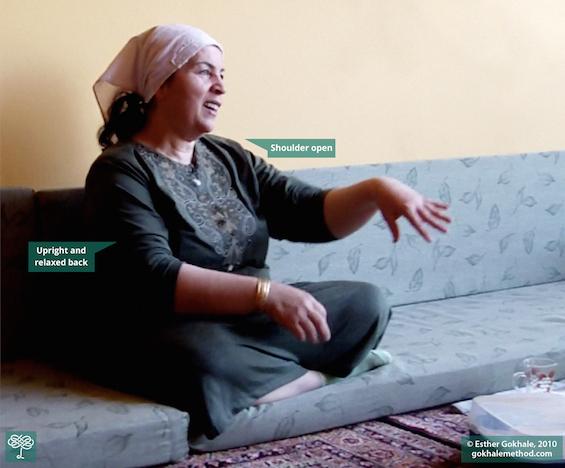 This Druze woman who I met in Israel has sat cross-legged all her life. She runs a hospitality business — all the food is laid out on the floor and the guests sit along the periphery of the room. She is at ease in this position for extended periods with her back remaining upright and relaxed.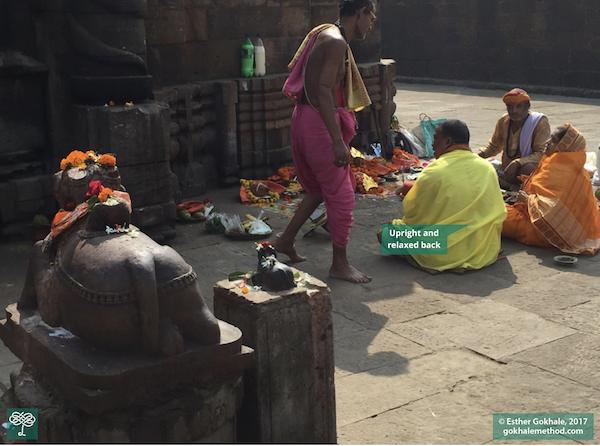 In this temple in Bhubaneswar, devotees sit cross-legged for extended periods in performing rituals.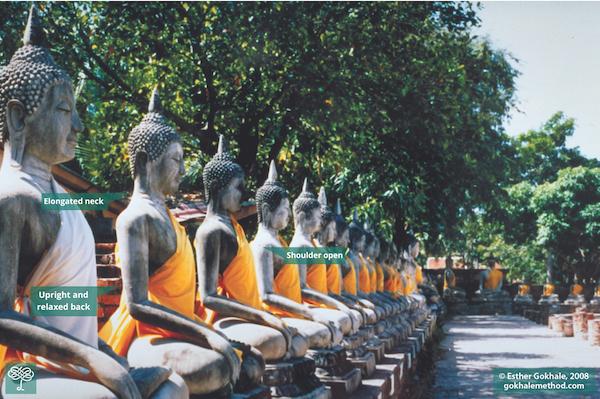 These Buddha figures in Thailand show relaxed, healthy, upright cross-legged sitting posture.

For those who grew up sitting on the floor (thus maintaining their original muscle flexibility and joint mobility), sitting on the floor is comfortable and healthy.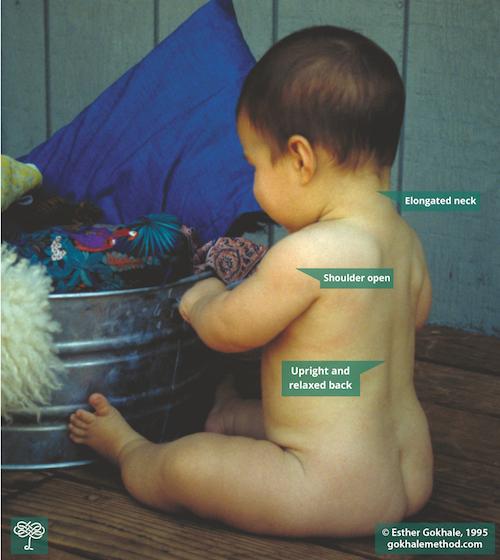 Babies in any culture have the capacity to sit cross-legged with healthy upright posture. This is Monisha White, Esther Gokhale's youngest child.
It comes in handy at sporting events, in working with young children or with objects on the floor, or in a minimalist context. For people who did not grow up sitting on the floor, though, it can cause a host of problems.
When we are born, our hip, knee, and ankle joints are not yet made of bone, but rather of cartilage. The cartilage ossifies with a timeline that is specific for each joint. The hip socket, for example, is made of three cartilaginous plates at birth. The first pair of these plates ossifies at age 2; the last pair ossifies at age 16. We know that ossification patterns are influenced by mechanical stresses, so it is a commonsensical argument that the habitual positions a person assumes during the ossification period in childhood will dictate how the hip joints (and other lower body joints) set. Someone who has not sat on the floor since being a baby will have a different hip architecture than someone who sat on the floor to eat and squatted to use the toilet growing up. The shape of the joint will be different, as will its range of motion. Some joints have a "use it or lose it" mentality! Additionally, the muscles around these joints will have resting lengths that are adapted to the habitual positions. With muscles, it is simply a matter of stretching to get them to cooperate and be comfortable in new poses. For the bones and joints in an adult, however, things are more fixed. It is unlikely that any amount of practice could find us comfortable and sitting healthily in the lotus position for the first time as an adult.
In this first post of our multi-part series on floor sitting, we will teach you how to modify cross-legged sitting so it is more accessible and healthy for your modern body.
How the "pros" do it
Having grown up with this position since early childhood, people like the Thai woman below are able to preserve a healthy base anteverted pelvis and a well-stacked, relaxed, and upright torso.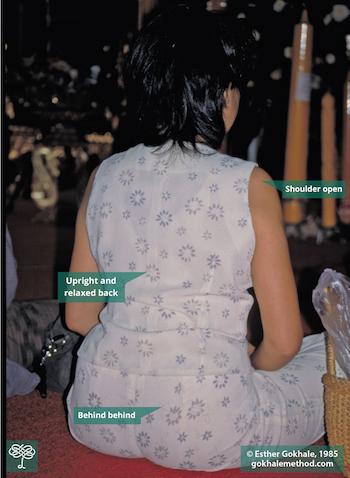 This Thai woman sits through a prayer ceremony sitting cross-legged. Notice her upright and relaxed torso atop an anteverted pelvis.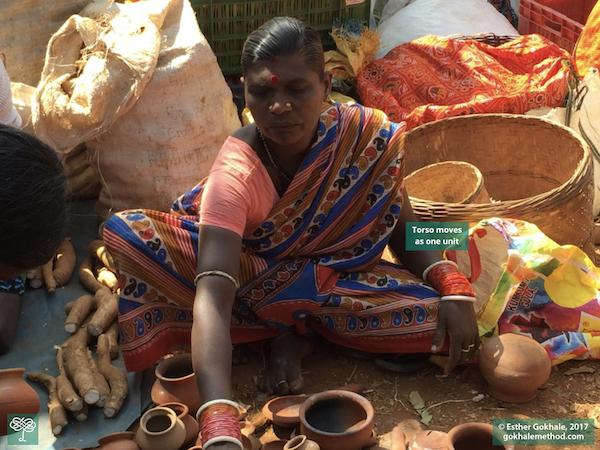 In a tribal market in Orissa, this woman sells pots and roots while sitting cross-legged for hours comfortably.
The problem in modern cross-legged sitting
This position tends to tuck the pelvis in people who did not grow up sitting cross-legged. The pelvis is limited by the external hip rotators as well as by the shape of the hip socket itself. Without an optimal alignment of the pelvis, you will be stuck between two poor choices: relaxed and slumped, or upright and tense, each of which causes different kinds of damage.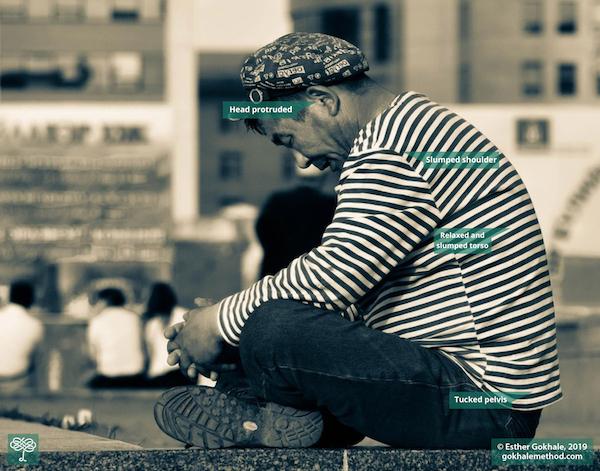 Cross-legged sitting on the floor for modern urban people usually involves a tucked pelvis.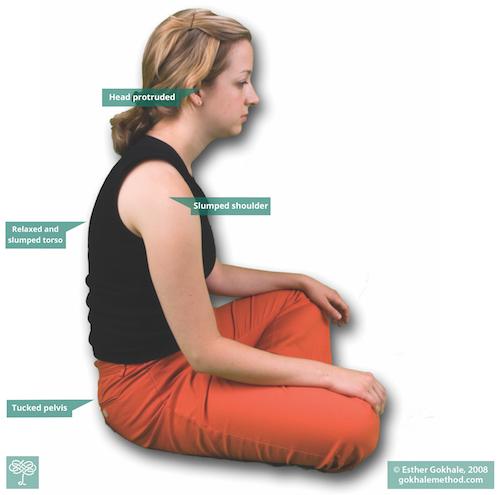 A retroverted (tucked) pelvis often results in a relaxed and slumped torso (left). Being upright on a tucked pelvis requires tension in the long back muscles (right). This is not a sustainable or healthy position for long periods.
The fix: use implements (pillows, wedge, blankets) under your bottom to help facilitate rotation of the pelvis. Allow the legs to be lower than the hips to accommodate tight external rotators and the shape of the hip socket.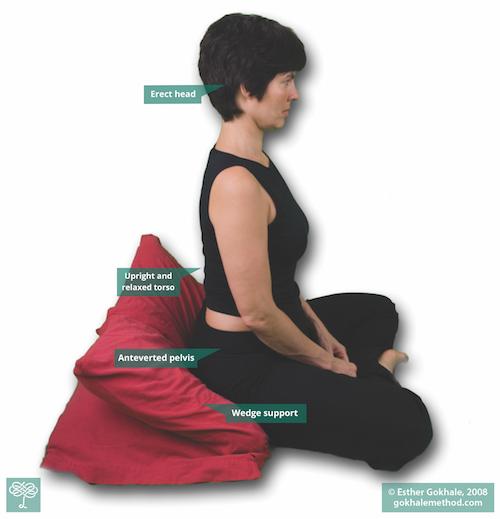 A support under the sitz bones facilitates sitting cross-legged in a healthy way — upright and relaxed.
Do you use any of these techniques? Do you have props that help you sit on the floor more comfortably?