Using the word "eccentric" might sound like I'm about to write about muscles behaving in weird ways that are different from usual muscle behavior!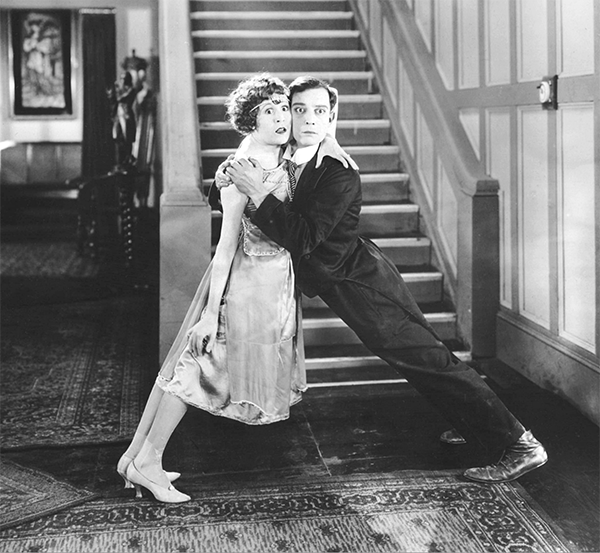 Virginia Fox and Buster Keaton prop each other up in The Electric House (1922).
These muscle actions are ek-sen-trik! Wikimedia
But what I'm referring to, eccentric muscle contraction, is often pronounced ee-sen-trik, not ek-sen-trik.
How muscles contract
Eccentric muscle contraction is the reverse of the concentric contraction that we typically associate with muscle training. For example, the dumbbell curl that makes the bicep prominent as you lift the weight towards your shoulder is a concentric contraction. The muscle contracts and shortens. But lowering the dumbbell back down again, which requires the muscle to lengthen, also takes muscular control, and that is called an eccentric contraction. So the muscle is being asked to both stretch and resist at the same time.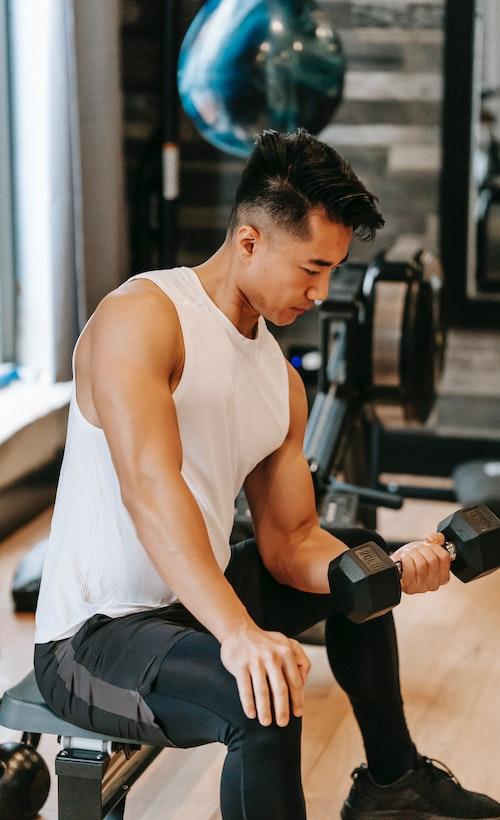 Lifting a weight such as a dumbbell works the biceps femoris concentrically, while lowering it works it eccentrically. Pexels
Although there is still much to be discovered about how our muscles and tendinous tissues work at a cellular level, eccentric contractions have well understood characteristics that make them of particular interest to medics, athletes, physical therapists, and researchers. And they play an important role in healthy posture.
Walking upstairs and downstairs
Dr Michael Mosley, a well-known broadcaster on health and wellness in the UK, presents a radio series for the BBC called Just One Thing. Each 14-minute show explores just one thing that you can do to improve your health. (We would like to see him do a show on healthy posture! Consider suggesting this here.) Back in April he looked at the benefits of eccentric exercise and movement.
One of Mosley's favorite studies had people walk either up or down the stairs of a 10-story building twice a week, using the elevator in the other direction. Both groups saw improvements in many health outcomes—but those walking down the stairs—doing more eccentric rather than concentric muscle work—did better. They were fitter, having a lower resting heart rate despite doing less cardiovascular exercise, had lower insulin sensitivity and lower blood fat levels, better bone density, superior balance, and twice the improvement in muscle strength. Seems like those step-climbing machines at the gym could be rigged the other way around!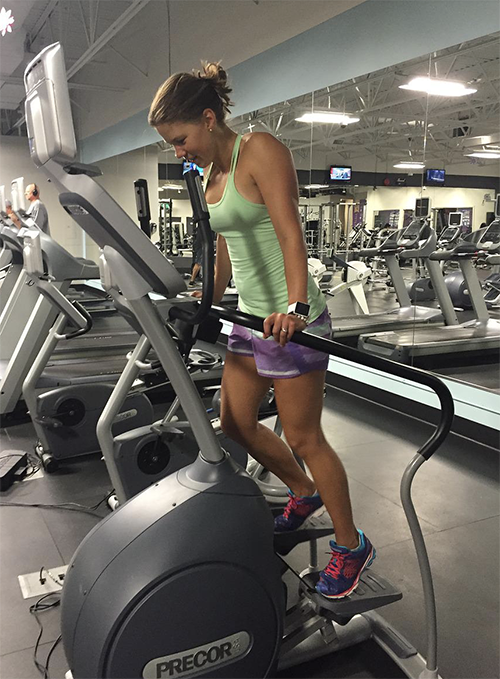 Gym work on elliptical trainers and step machines emphasizes concentric muscular contraction and cardiovascular effort. Pixabay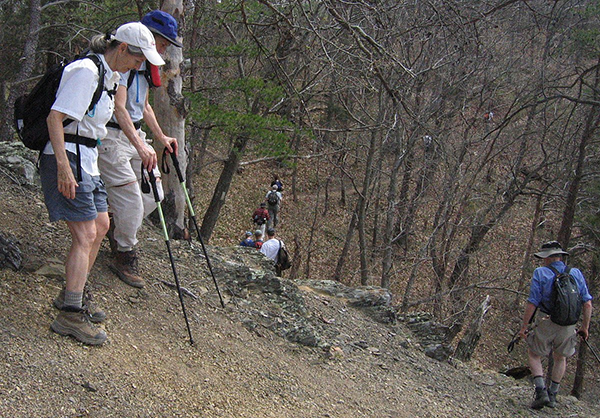 Eccentric muscle contractions dominate as we lower our weight walking down hills and stairs. They have been proven to bring particular health and fitness gains. Wikimedia
Calories you save vs. calories you use
Mosley interviewed Tony Kay, professor of biomechanics at the University of Northampton. Kay explained that the muscle-lengthening phase of exercise is also more efficient than the muscle-contracting phase because eccentric contractions only need approximately one quarter of the energy of a concentric contraction, employing fewer muscle fibers, and generally not lifting against gravity. However, eccentric work burns more calories than a seemingly tougher concentric workout because it creates more microscopic tears in the muscle, and so after exercising the body has to raise its metabolic rate to repair and build back stronger.
Professor Kay has also conducted studies that demonstrate superior gains in bone density, and range of motion, through eccentric work. These various benefits can be effectively targeted for a wide range of needs, from post-injury rehabilitation, or strength training in the elderly, to developing elite athletic performance.
Everyday eccentric movement and exercise
Eccentric muscle contraction, just like healthy posture, is most useful once integrated into everyday tasks and movement. For example, to lift the front of the forward foot clear of the floor while walking, tibialis anterior works concentrically, but then eccentrically to lower it. If you are prone to trips and falls, perhaps due to an underused and weak tibialis anterior, it can be woken up and strengthened by our Gokhale Method® toe tap exercise. You can learn toe tap here.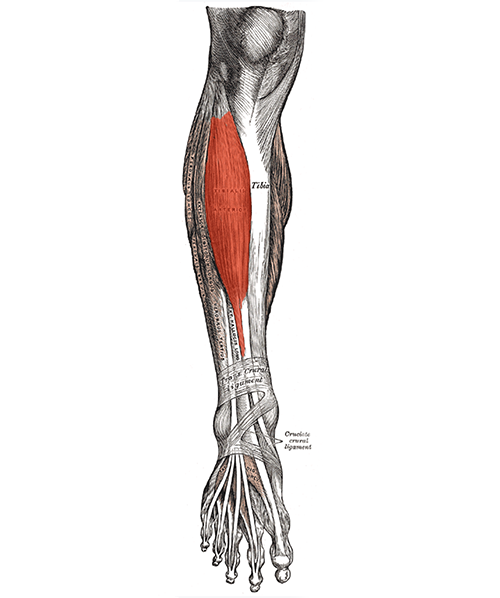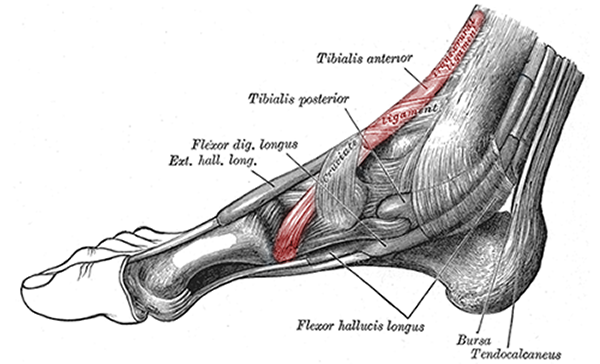 The tibialis anterior muscle runs along the shin bone (tibia), its long tendon attaching under the front of the foot to lift and lower it with fine control. Wikimedia, Wikimedia
Another especially beneficial exercise for most people in our culture is the Gokhale Method shoulder roll. It helps correct the common rounding of the shoulders that occurs with poor posture. This better aligns the joints to prevent impingements and arthritic change, and helps open the chest for healthier breathing. There are various muscular actions involved in shoulder roll, but slowly releasing the trapezius muscle (traps) downward (eccentric contraction) after they have lifted the shoulder (concentric contraction) is key to this maneuver. You can learn shoulder roll here.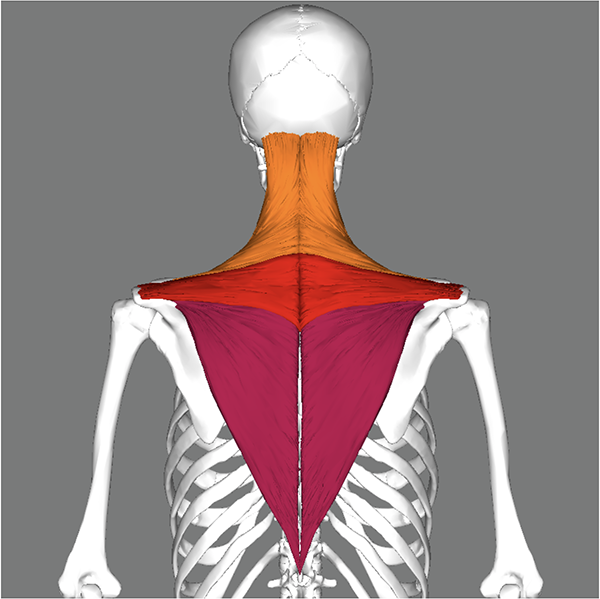 The upper and mid portions of the trapezius muscle contract concentrically to lift the shoulder upward in shoulder roll, and eccentrically to lower it into its healthier new position. Wikimedia
Can eccentric work help with my tight hamstrings

?
Eccentric work can be used to lengthen muscles just as it can be used to strengthen them. Most people in our culture have tight hamstrings, often despite regular stretching, even done over decades. Far better to learn how to sit, walk, and, most importantly, bend in ways that not only spare your back from damage, but also don't cause the hamstrings to be overly tight in the first place. In addition, bending, done well, will naturally, eccentrically lengthen your hamstrings. We call this way of bending hip-hinging, and it is one of the more advanced techniques we teach in our Gokhale Method® in-person Foundations and Pop-up courses, and our online Elements course.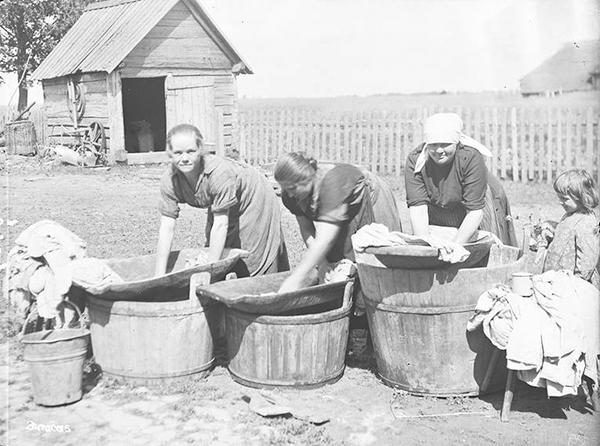 Women doing laundry. Photograph by Balys Buračas, Lithuania, 1923.
In traditional cultures people hip-hinge to bend, sparing spinal discs and nerves, maintaining hip mobility, and preserving good length in their hamstrings. www.epaveldas.lt
Keeping eccentric muscle training comfortable and safe
I asked our Gokhale Fitness expert, Eric Fernandez, if there are any downsides to eccentric muscle training. Eric offered two tips to proof your workout:
Watch out for DOMS! (Delayed Onset Muscular Soreness) Unaccustomed eccentric exercise is known to cause muscle damage, or micro-tears in the muscle, which is followed by delayed inflammation and soreness. To avoid this, work up the intensity of your exercise very gradually.

With eccentric exercise you are generally lowering or resisting a weight—whether that's a dumbbell or your own body weight, such as when walking downstairs. You run the risk of the weight moving you, rather than you moving the weight. So, pick exercises and weights where you can build up gradually, remain in control, and safely release the weight or steady yourself if necessary.
Eric demonstrates single arm bent over rows. This exercise targets the lats (latissimus dorsi), working them concentrically to lift, and eccentrically to slowly lower the kettlebell. Eric follows this with an eccentric lats stretch using the wall.
Eric demonstrates a kneeling lunge. Usually this is a passive, sinking downward stretch. Here, by driving the kneeling leg forward, he also produces an eccentric contraction, potentially deepening the stretch and strengthening the hip flexor tendons.
Eric often uses eccentric exercise in his Gokhale Fitness classes, Monday–Saturday, 3:00–3:25 pm PT. If you are reading this blog and would like to try exercising the Gokhale way and develop healthy posture at the same time, you are welcome to sign up for your Gokhale Exercise free trial here. We look forward to seeing you there!
If you would like to find out more about how the Gokhale Method can help support you, sign up to join one of our upcoming FREE Online Workshops, including Weightlifting and the Gokhale Method with Eric on Tuesday, August 30, 4:30 pm.