According to research a shocking two-thirds of professional musicians live in chronic pain. Those of you who are music makers may have felt challenged at times by the lengthy periods of sitting or standing required for practice and rehearsal. Continuously holding an instrument, maintaining a playing position, or just standing holding sheet music, can, sooner or later, trouble your neck, shoulder, or wrist. Playing can become a physical challenge rather than an activity integrated with the music making.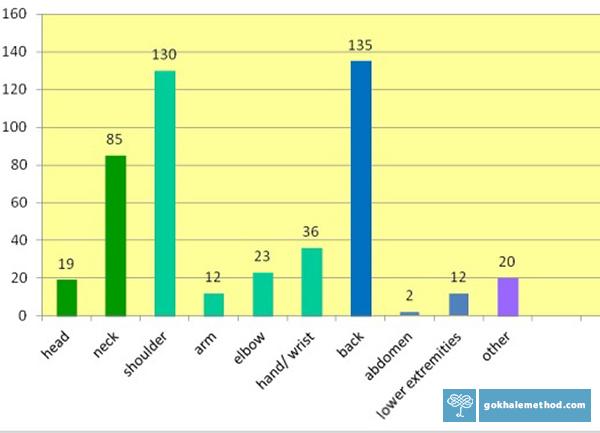 This graph shows the distribution of pain reported in a group of 490 musicians.
Finding harmony in your body
The good news is that healthy posture can allow music-making to be not only a pleasure for the ears and nourishment for the soul, but also something comfortable and good for your body. Each time you play, practice, or perform, with your body in harmony, it will feel all the better for it, rather than sore and achy. 
In this series of blog posts about making music with healthy posture, you will meet some of our students and teachers who are also musicians. Some are professional while others are keen amateurs, but they all treasure music-making in their lives. They share having had their musicianship curtailed at some point by back pain, and having resolved it with the Gokhale Method®. This first blog post talks about playing the piano.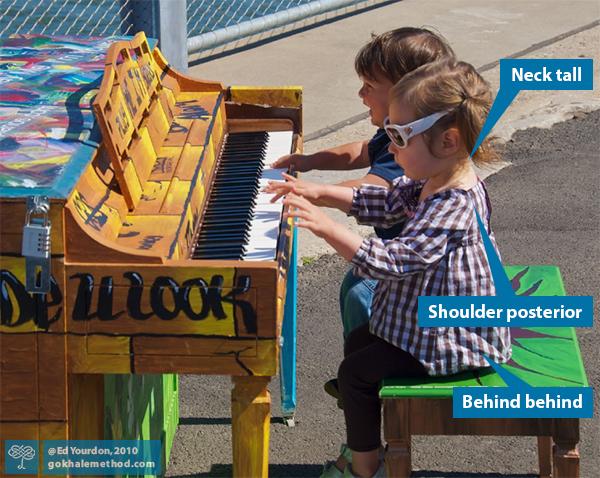 As infants we naturally stacksit well to play an instrument. These youngsters have their behind behind them, shoulders posterior, and a tall neck. Their stool is too low though!
Playing the piano pain free
Juan Zurutuza holds the unique position of pianist with the Gothenburg Symphony Orchestra, the National Orchestra of Sweden. Juan discovered the Gokhale Method online and then took the Gokhale Method Foundations Course with John Carter in the UK in 2016. He followed up with two one-day Pop-up courses with me in Werkhoven, Holland, and Bonn, Germany. In a recent catch-up he said:
Most of my musician colleagues have problems—that are solvable. I see many fixable postural problems, for example, tight, forward shoulders causing tingling in the fingers and impaired sensation, which causes immense difficulty to string players. But there are examples all over. 
When it comes to physical ease in playing piano, I find two things resonate for me. For the particulars of piano playing, the Taubman Approach. For whole-body posture, the Gokhale Method is an invaluable baseline. I'm not claiming to be perfect, but I know if my lower back gets tight I need to work on my sway with my rib anchor, and my neck position. At least I am aware and can change. 
The straightforward guidelines given in the Gokhale Method have made a huge positive impact on my playing: learning how to glide your neck back, how to lengthen your spine, how to sit using a wedge. . .All these things help me to be able to sit down and practice for what can very often be all day. People may say "oh, all that sitting is really bad for you," but it really depends on how you do it. 

This photo shows Juan playing in 2008, before he found the Gokhale Method. It shows how his pelvis tucked when he played, rounding his back and sending his shoulders, neck, and head forward. When the pelvis is tucked, coming to an upright position demands the lower back muscles tense up.
(Concert at the Railway Museum, Utrecht, The Netherlands.)
Being pain free isn't a requirement to be a great musician, certainly. But for me, being pain free, comfortable, and able to move in a coordinated way, increases my chances of conveying my musical intentions. I would say that I am seeking to align my physical and musical experiences as I play.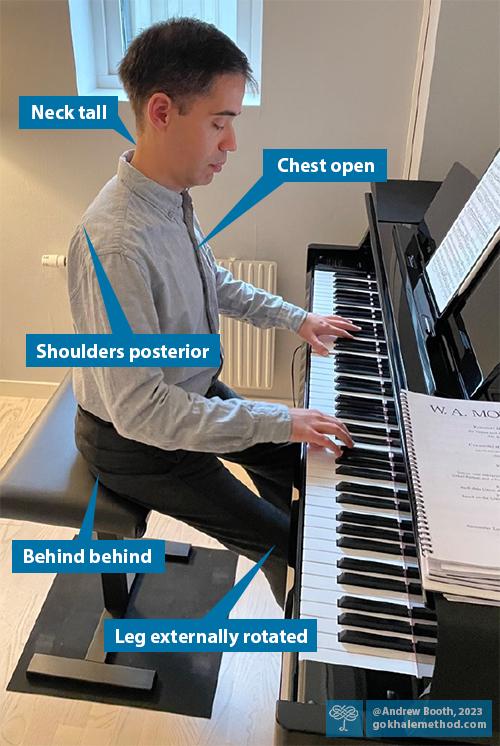 Juan practicing in Gothenburg, 2023, applying what he has learned with the Gokhale Method.
Teaching the piano along with healthy posture
Sigrun Franzen is a recently qualified Gokhale Method teacher based in Madison, Wisconsin. Sigrun is also a professional pianist, organist, and harpsichordist. 
I was never completely comfortable playing the organ, but I thought that was just the price you paid for a more awkward instrument which didn't allow you to balance your feet on the floor when using the pedals and using your arms at different heights to get to the manuals (keyboards). Doing these things gave me back pain because I did them by letting my ribs pop up and contracting my back. Applying the Gokhale Method techniques of rib anchoring and engaging my inner corset solved that problem!
My own piano teacher recommended Esther's book 8 Steps to a Pain-Free Back to me, as she had another student who had benefited from the Method. It was the structural integrity I got from the Gokhale Method that proved to be the key to pain-free music-making. In fact to pain-free everything! For example, I suffered with persistent sciatica until I learned to glidewalk. The postural techniques I use at the piano are also directly transferable to healthy working at a desk computer.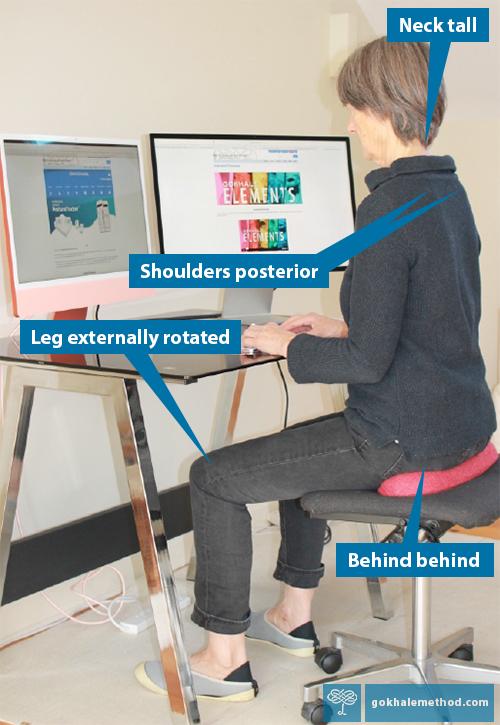 Healthy sitting for working at a computer follows the same posture principles as playing the piano. 
I play and teach piano with the Taubman Approach. In addition, with the Gokhale Method, it feels wonderful to offer a healthy postural role model for my students, which goes a long way. If they are still sitting poorly and in discomfort I can give them a little wedge for easy stacksitting—a light touch that makes a lot of difference. I have had some of my piano students' parents take the Gokhale Method Foundations Course, which is a great way for them to support their kids. I like to have a few suitable stools and images of good positioning around in my studio. One of the parents said "Oh, you're kinda like a professional sitter." 

Here was Sigrun teaching a young pupil piano, back in 2016, before she discovered the Gokhale Method. Like Juan, she was tucked and rounded forward. Sigrun's young pupil still has her natural posture intact and is setting an excellent example!
Learning the Gokhale Method enabled Sigrun to sit tall and relaxed as she plays. This video excerpt shows Gokhale Method teacher Sigrun Franzen giving a harpsichord recital. (Johann Jakob Froberger, Suite in A minor. St Matthias Episcopal Church, Waukesha, WI.)
Special Free Online Workshop for all musicians
Join Gokhale Method teacher Julie Johnson for our special free online workshop End the back pain and get back to music-making with the Gokhale Method, Monday, November 20, 11 a.m. (PST), 8 p.m. (CET). Julie is a pianist and choral singer in her spare time, and particularly enjoys helping other musicians to make music without strain on the body. You can sign up here.
Best next action steps for newcomers
If you would like insight on your posture, consider scheduling an Initial Consultation, online, or in person.
You can sign up below to join one of our upcoming FREE Online Workshops. . .