Yesterday was midwinter day in the northern hemisphere. For many of us, this time of year means colder, shorter days, and a time when outdoor activities and social get-togethers can be more limited. 
Get out walking 
One thing we can do whatever the season is to get out on foot. Walking, done well, can significantly boost our circulation, burn calories, keep us warm, and assist our digestion—especially useful after rich and large festive meals! A good walk will also fill our lungs with fresh air and can boost our immune system to fight off winter bugs. 
Such exercise, especially in nature, is known to lift our mood. We can enjoy the company of friends and family—or go solo for some peace and introspection, as fits. All these potential benefits and more are summed up in the Latin phrase, Solvitur Ambulando, which translates as "walking solves everything."¹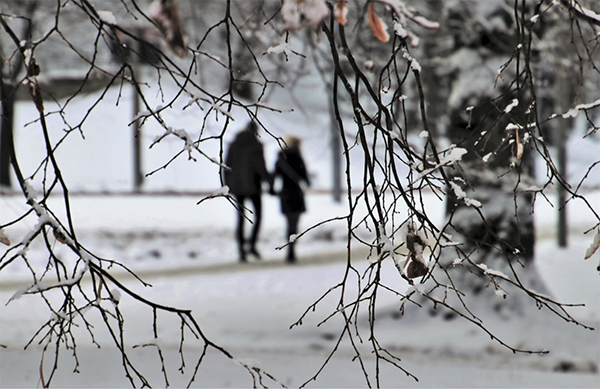 Daylight, fresh air, nature, companionship, and good posture all contribute to walking being a healthy and holistic activity. Pixabay
Walking—a primal activity for optimal health
It's all too easy, especially on busy days, to go without any significant period of walking. We could be at our desk, or "on our feet" all day, without getting into the rhythm that comes with sustained walking. Walking for 30 minutes or more at a time would have been much more familiar to our ancestors—going to school, to the shops, or to work—than it is to many of us today. 
In many parts of the world this is still the case, and women in particular often walk many miles to fetch water, food, and fuel. I don't want to romanticize hard labor, but I do think that the lack of sustained walking in much of the industrialized world, especially the US, means that we miss out on an activity that has been intrinsic to our evolution and healthy functioning.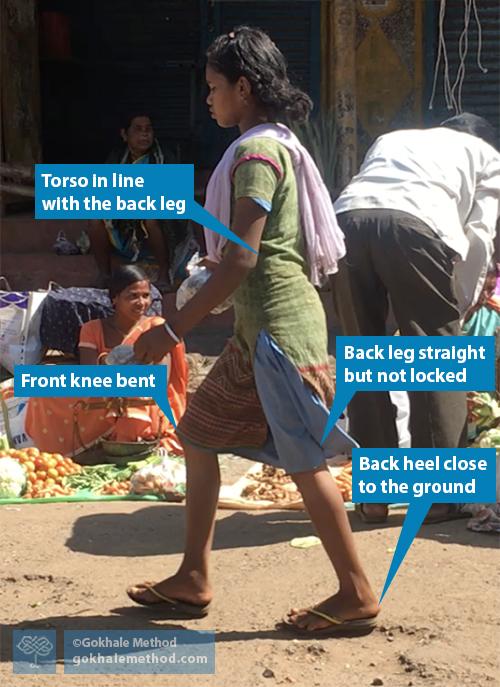 Glidewalking describes the natural gait of our ancestors and many people living in more traditional or nonindustrialized societies—where joint and back pain are rare.
Learning to glidewalk makes walking a pleasure
Walking with the healthy gait pattern that nature intended keeps the feet, legs, and glutes strong, and the joints mobile. The Gokhale Method calls this glidewalking, and it is explained in detail in my book, 8 Steps to a Pain-Free Back. As the term suggests, it results in a smooth action which spares the joints, including the spinal discs and nerves.
The basics of glidewalking can be learned in our Gokhale Method® in-person Foundations and Pop-up courses, and our online Elements course. Students experience the most significant changes during sustained walking, as it takes some time and distance to ease any stiffness in the muscles and joints, find a harmonious rhythm with the breath, and "get into one's stride."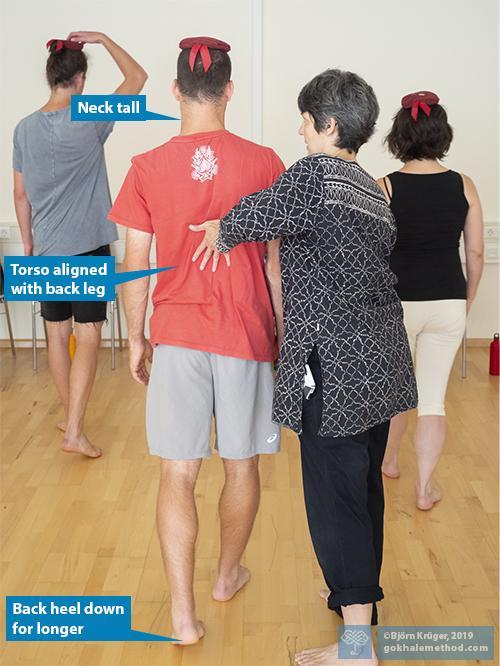 Students find that sustained walking embodies the changes they've learned to make in class.
Sustained walking also allows students to cycle through the cues they have learned, checking for details such as "back heel down," and "land on a bent front knee." By refining these cues with each pass, they become integrated as habits. With healthy biomechanics, students find their new walk becomes smoother, more powerful, and more pleasurable. 
The essence of glidewalking
For Alumni we offer an Essence of Glidewalking course, where you can deep dive to find out what's possible for your walking by slowing a movement down, tracking the detail, and troubleshooting anything holding you back. You have two expert teachers, one demonstrating and the other watching you, plus the opportunity for Q&A both inside and outside the session. 
Essence of Glidewalking participant Elenore Wieler speaks about her experience of the course.
If you are one of our Alumni and would like to revisit and refine your walking, the Essence of Glidewalking is especially for you! Our next six-part course starts on January 16 at 8:00 a.m. PT time. You can sign up below:
If you would like personalized guidance on any aspect of your posture, consider scheduling an Initial Consultation, online or in person, with a Gokhale Method teacher. 
Find out more about how the Gokhale Method can help you with our range of upcoming FREE Online Workshops. . .… 
References
¹attributed to the Greek philosopher Diogenes or, alternatively, St. Augustine.