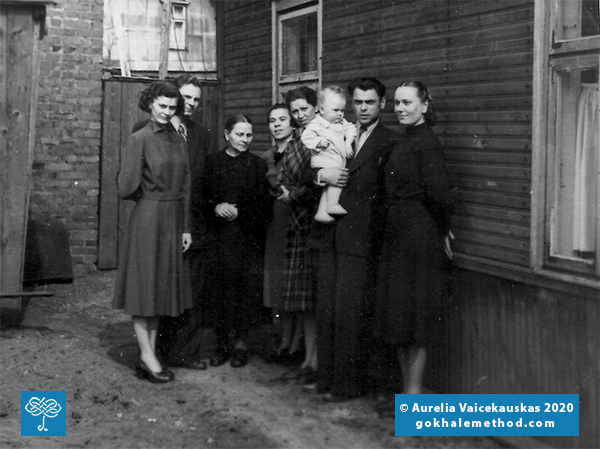 Lithuania, 1957: my parents' wedding day.
Everyone in this photograph reflects effortless elegance and poise. Notice that their shoulders are resting toward the back of their torsos, and their necks and backs are elongated; very different from the modern "chin up, chest out, thrust your pelvis forward" stance. This photograph was taken on my parents' wedding day. My mom and dad are on the left. Healthy posture has contributed pain-free living (musculoskeletally speaking) well into my mom's advanced years. She didn't have aches and pains until my dad passed away, two years ago.
Resolving knee and leg pain
My mom is very gentle, yet she can be stubborn! Despite recent complaints of leg and knee pain at night, she was adamant that she did not need Gokhale Method instruction. At 95 years old, she said she was too old to change and had no time for "such things."
However, I could see that when she used the stairs a lot, her pain would increase. In the end, she consented to instruction — and subsequently reported diminished leg pain, and increased stability in walking.
We know that leg pain can be local and/or referred from the low back. To address the legs and knees locally, I showed her parts of the glidewalking technique. To help take the pressure off her back, I taught her stretchsitting and stretchlying on the back.

Knee pain can sometimes result from posture issues. Image courtesy Dr. Manuel González Reyes on Pixabay.
Foot grab and bum squeeze
Weak arch muscles can cause the feet to pronate, which is the case for my mom. Pronation pulls the leg in, creating misalignment in ankle, knee and hip joints. Notice the white arrows in the photos below, showing my mom's legs and the feet moving in dramatically different directions. No wonder when she goes up and down the stairs, her symptoms flare up!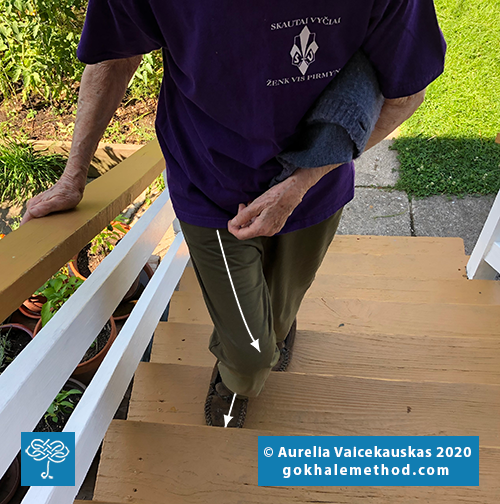 My mom's usual way of climbing stairs pulls her femur and foot in two different directions.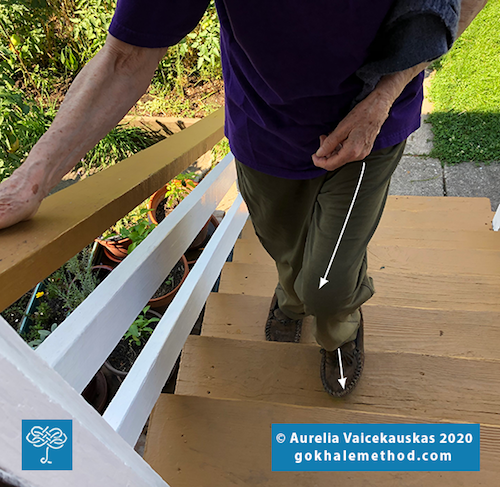 She experiences the issue on both sides.
The solution was to incorporate glidewalking elements with every step on a new stair. I taught her to grab the floor with the foot and squeeze the bum (same side) with every step. This engages the foot and glute muscles and reshapes the leg and foot into healthier architecture and articulation. See my mom make this change in the photos below. Notice how her thigh bones and feet are now aligned!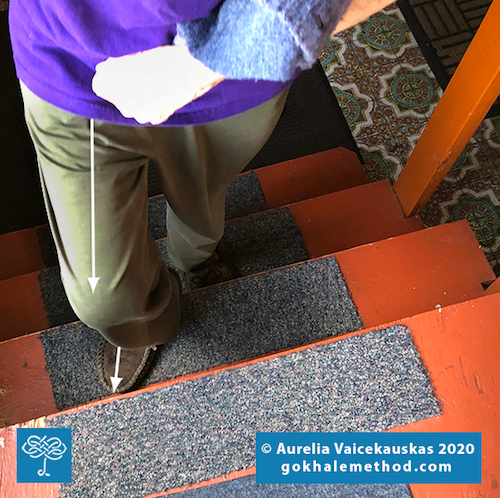 After incorporating Gokhale Method techniques, my mom's femur and foot on each side are now aligned while climbing stairs.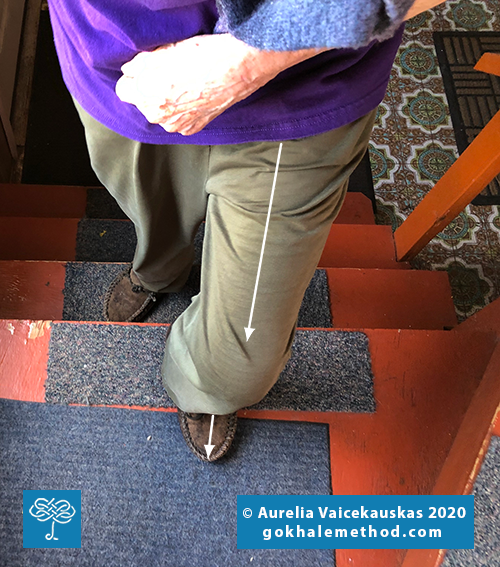 Learning glidewalking was key for helping my mom recalibrate her stair-climbing technique.
After addressing her legs and knees locally with glidewalking, we helped take pressure off her back with stretchsitting and stretchlying.
Stretchsitting
My mom loves to decompress her back by stretchsitting in the Gokhale Pain-Free™ Chair. She lengthens her back against the backrest and maintains a gentle traction while she sits. Moreover, a Gokhale-style shoulder roll helps open her chest and decrease hunching on top. With a history of chronic bronchitis and heart issues, this small gesture supports these organs with more space and better orientation. Quite a contrast to her "before" sitting photo!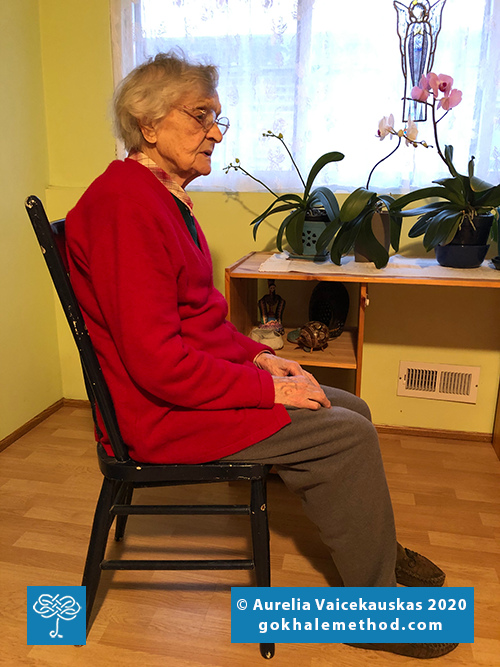 Above, my mom's "before" photo sitting in a typical chair, with hunched shoulders and a rounded upper back. Compare with her "after" photo below.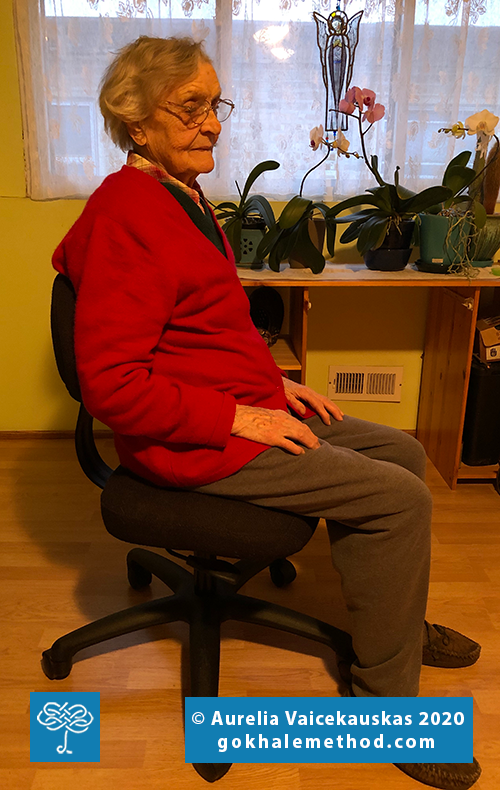 Here, my mom uses a Gokhale Pain-Free Chair to stretchsit, effecting gentle traction in her spine, and positions her shoulders with a shoulder roll to gently open the chest.
Stretchlying on the back
Finally, we learned stretchlying on the back as another practical way to decompress the low back, illustrated below. Once the spine is lengthened by stretching, it is supported with strategically positioned pillows. A pillow under the shoulders/head elevates the upper torso and flattens any sway in the low back. A second pillow under the knees relieves pressure in the low back by relaxing the psoas. She now has a relaxed, lengthened back while she sleeps.


This sketch shows how stretchlying helps gently lengthen the spine.
Results
My mom now stretchsits and stretchlies easily on her own. Walking and taking the stairs continue to be works in progress but she is already very pleased with the results. With diminished pain she sleeps better and has more energy. Hands-on instruction does help things stick! In fact, she is now enthusiastic to learn more Gokhale Method techniques.
While we all await a return to in-person teaching, you can schedule an Online Initial Consultation with one of several qualified online teachers to begin individual posture coaching and begin learning these techniques (and more!) yourself.
To be continued!