Welcome to the second blog post in which I am delighted to tell you more about our exciting recent TV project. If you missed it, you can read The Secrets of Pain-Free Sitting, Part 1: The Inspiration behind a New TV Show here.
Getting the Gokhale Method out there
People are sitting poorly and continue to blame sitting for their back pain. And so we created Secrets to Pain-Free Sitting, a pledge show that the Gokhale Institute made with producer Frank Zamacona for American Public Television (APT). The solution to back pain has never been so urgently needed—and now, with our new 45-minute show, so available.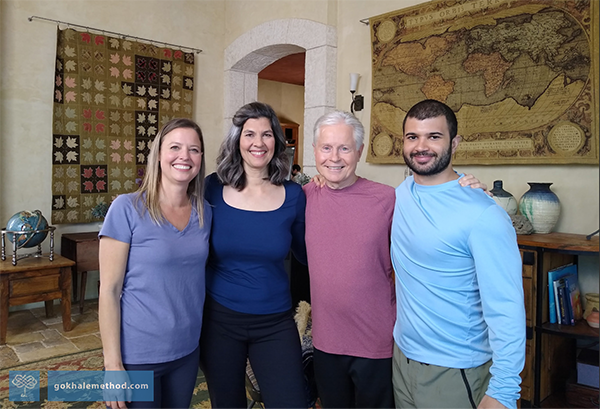 Here I am with the stars of the show! We are, from left to right, Susan Van Niekerk, Esther Gokhale,
Dennis Bennet, and Eric Fernandez. Go team! 
We have a high prevalence of back pain in our culture and a low level of effective solutions. The Gokhale Institute's mission "to make back pain rare" through postural reeducation has been embraced by "early adopters" and those for whom our anthropological and historical approach to ending back pain resonates.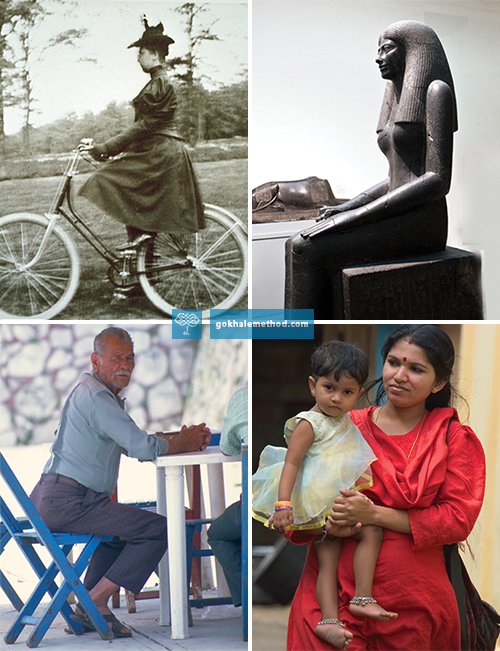 The Gokhale Method teaches the posture principles you see in antique photographs and artworks, in children, and in traditional societies, where healthy posture has been handed down uninterrupted through generations. 
Our students are wonderful ambassadors, and are often keen to share their success stories with friends, family, and particularly generously, via our blog posts and testimonials. However, making our message super-accessible, and getting the word out far and wide, has been a challenge for a small company such as ours. 
My book, 8 Steps to a Pain-Free Back, which continues to be in demand in 12 languages, and also the DVD, Back Pain: The Primal Posture™ Solution, have certainly been key ways for many people to encounter and learn the Gokhale Method®. Yet to make it easier for people to discover our approach, and to see what it can do for them, we wanted to make our solution to back pain available in every American home. This goal became a reality when our pledge program was picked up by APT, who saw that its content was of increasing relevance to the public.
A place to make the show 
For some time the show felt a long way from happening, as we tried and failed on landing a suitable location for filming, this being made much more challenging by COVID. Eventually I made an appeal on a local social media platform. I was delighted when I was contacted by the owners of a beautiful and spacious home on Skyline Boulevard, nestled in the hills of Woodside, CA.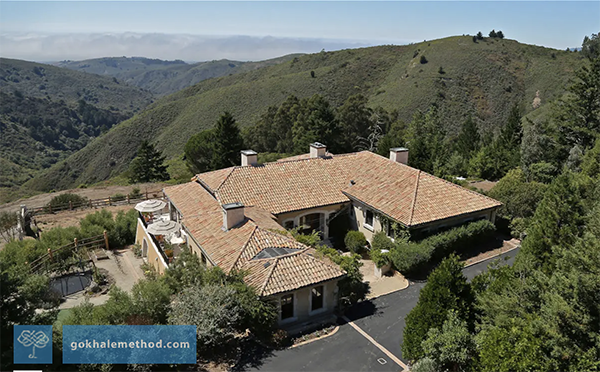 The stunning venue we were offered enabled the project to become a reality. It was an inspirational setting for everyone involved. 
Readying our venue for filming required a surprising amount of work, both inside and out. Control of the light levels inside was essential, and so some blackouts had to be erected over the windows of the room where we were filming.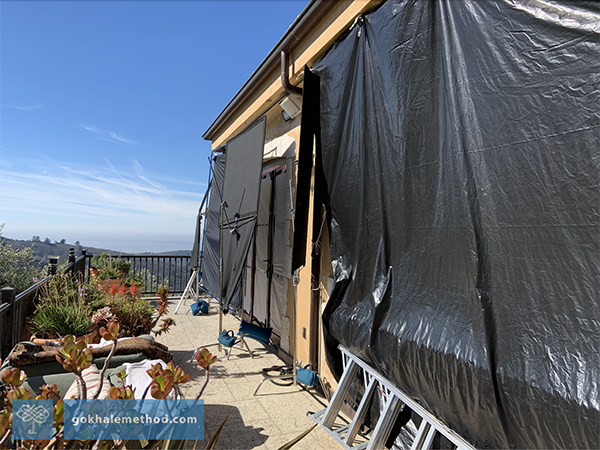 Controlling the light levels by rigging blackouts was another physical task for the TV crew.
Our hosts were gracious and generous. Their home worked as a venue on so many levels, and not just for us, but for the family too. They homeschool their kids, some of whom watched the show take shape in real time, learning about film making and about posture simultaneously. It also turned out that one of their daughters had amazing posture (possibly the subject of an upcoming blog post!) 
Whatever job you do, posture can hurt or heal
Our very first feedback about the show came from the people engaged in producing and shooting it. The TV crew were pleased, indeed grateful, to have learned this information about sitting. They had various issues with their posture and were surprised and delighted to find this assignment so relevant to the professional demands on them. Dan Friedman, the cameraman, emailed Susan, my personal assistant, saying, "BTW, the lessons came in VERY handy with transcontinental flights and a TON of sitting around chatting with family. So simple, so therapeutic. Now to stacksit and stretchsit my way through the edit!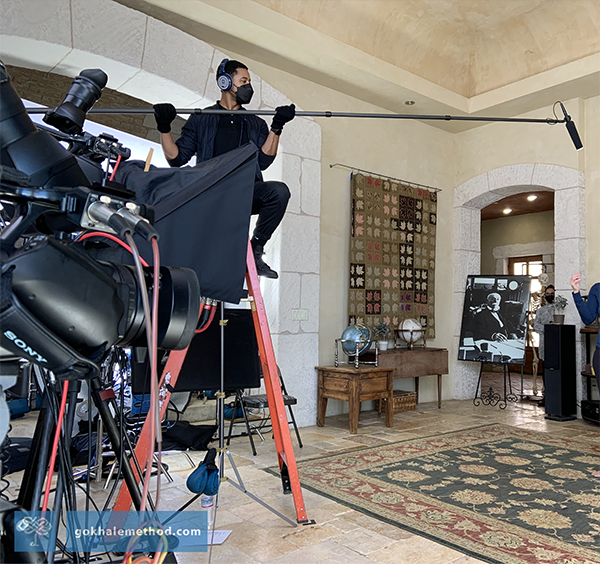 As you can see, some of the TV crew's tasks are physically challenging, especially to sustain for longer periods. Here, Jermaine Battle holds a heavy boom pole.
The boom operator shown in the photo above models an excellent example of stacksitting adapted to a physically challenging situation. Jermaine sits with a wide stance, his feet and legs externally rotated, astride the ladder in a well balanced position. He holds the boom close to his body with his shoulders back so that its weight is held by the larger muscles of his arms and upper back, supported by his spine and inner corset—it does not pull him into a swayed backward or a rounded forward position. Meanwhile, his neck remains tall, adding to his poise. 
Even in this hi-tech age, I was struck by the physical bulk of the equipment needed in the making of this, production-wise, relatively modest undertaking—ladders, boxes, lights, tripods, and what seemed like miles of heavy electric cables.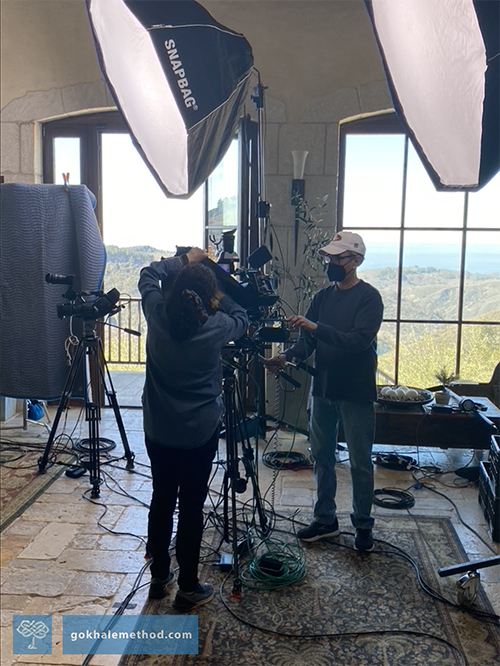 Here is a glimpse of just some of the equipment that had to be carried to, assembled, and moved around the set.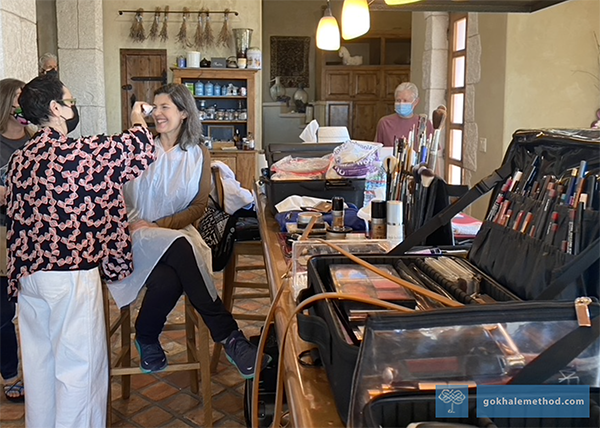 Make-up artist Jenny Zielon arrived on set with heavy cases full of the tools of her trade. Her job involved a lot of lifting, carrying, and standing, as well as fine control and expertise with the make up.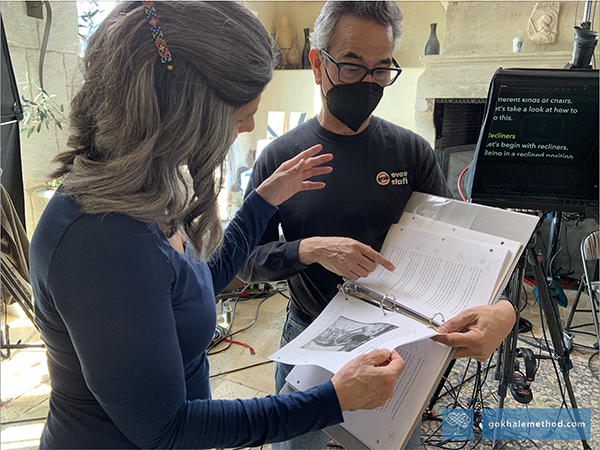 Producer Frank Zamacona and I discuss the next segment that the filming schedule will jump to…
You can see my teleprompter beside Frank. 
New experiences along the way
One completely new experience for me was using a teleprompter. Previously when teaching and presenting, even for the DVD, I had always worked from memory. But my friend and Indian classical violinist, Kala Ramnath, had shared with me how much easier it had been to work with a teleprompter for the instructional videos on her website. (where you can also enjoy her wonderful playing!) Frank was agreeable to letting me use a teleprompter for this shoot and it was indeed painless by comparison with memorizing a show's worth of content.  
How to stretchsit in a car
I would like to share with you a short but extremely practical tip from the show. It explains why sitting in a car can be especially bad for your back, and how to rectify it—in fact, how to change your seat into a therapeutic posture tool to help you become pain-free. 
In this excerpt from the show Gokhale Method teacher Eric Fernandez shows how to make car seats comfortable and healthy for your back.
How to watch

Secrets to Pain-Free Sitting
Hopefully that clip has whet your appetite for more! The pledge program is aired seasonally—the first round was aired on 32 networks from June, with over 125 broadcasts. There are still some broadcasts to come this month, and we expect more in Aug/Sept and Nov/Dec. You can find dates already scheduled here. To request for Secrets to Pain-Free Sitting to be shown in your area, you can email your local PBS Station Programming Department. If you need help finding the contact details for local stations, you can find them here. We hope you will enjoy watching the show and recommend it to your friends and family. 
To complement the TV show, we are offering a special online workshop on July 24, where you will be coached in 5 Top Tips for Sitting Well. In this bespoke workshop a Gokhale Method teacher will be helping me to give you personal attention and answer your questions.

If you would like to get started on your posture journey right now, consider scheduling an Initial Consultation, online or in person, with a Gokhale Method teacher.
Our Free Online Workshop program continues as usual: