In my experience, people are often unaware that their posture has greatly contributed to their muscular problems and damage.
In this blog post I would like to talk about a frequently injured group of muscles that attach the arm to the torso at the shoulder blade—the rotator cuff. The rotator cuff helps rotate the arm and lift it sideways and is also responsible for stabilizing the shoulder joint.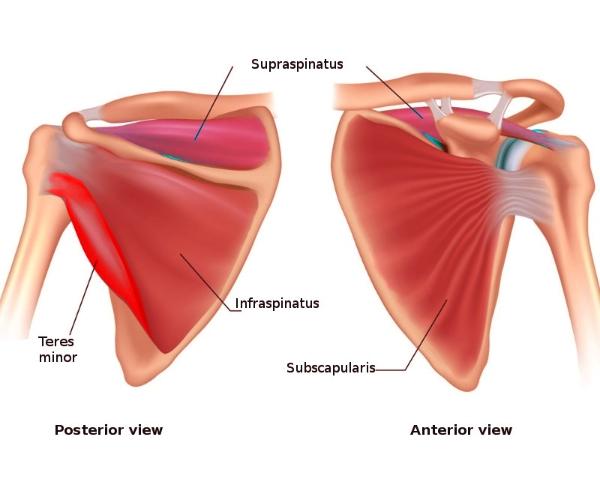 The four muscles of the rotator cuff are supraspinatus, infraspinatus, and teres minor, which lie on the back of the shoulder blade, and subscapularis which lies on the front.
Why we get rotator cuff problems
It's common for people to be rounded forward in modern times. Many of us habitually adopt a closed, slumped posture with tight muscles across the chest, while the muscles of the upper back and shoulders are often overstretched and lacking in tone. This front-to-back imbalance goes with holding the arms too closely to the body, and too far forward. The muscles of the rotator cuff are mechanically disadvantaged by such postural distortion, and put under undue stress.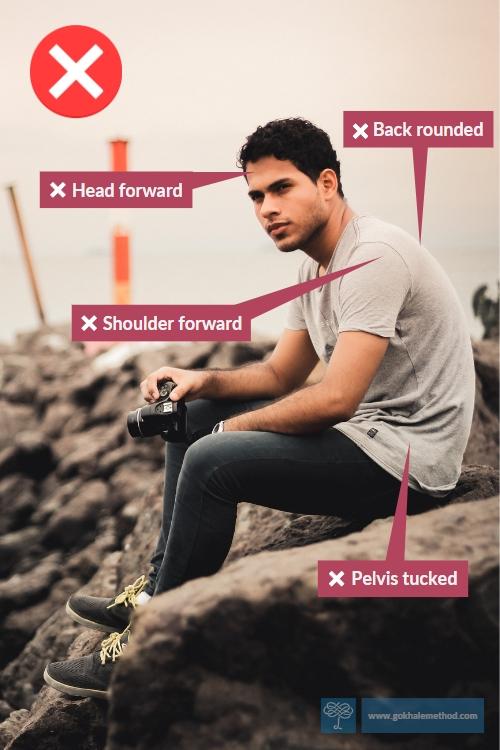 The slumped shoulder posture common in today's culture leaves the muscles of the rotator cuff prone to injury.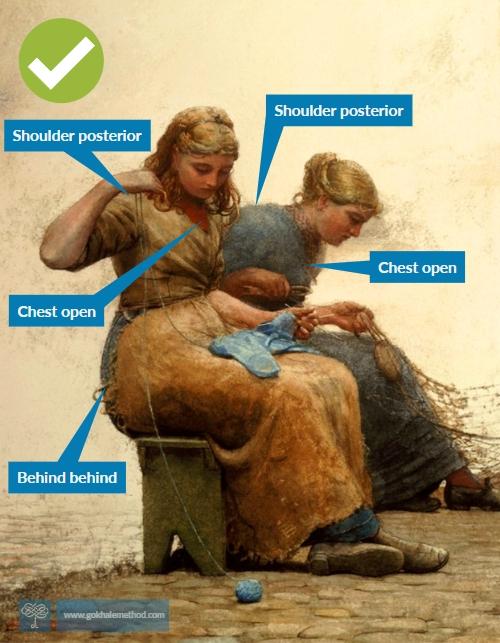 This painting from 1881 shows both women using the rotator cuff while their shoulders maintain a healthy posterior position. Detail from Mending the Nets by Winslow Homer.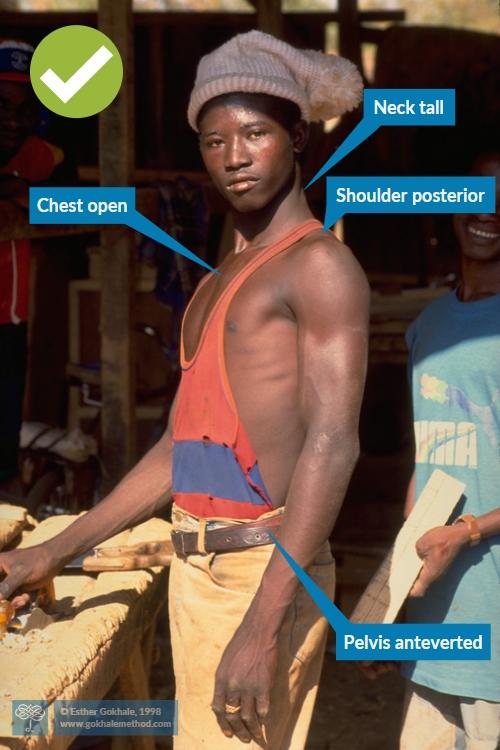 Traditional cultures preserve healthy posture for the shoulders. The shoulder and arm of this village carpenter in Burkina Faso align with the back half of his body, not the front. This posterior shoulder position arranges the bones and muscles optimally for rotator cuff health and mechanical advantage.
Of the four muscles in the rotator cuff group, the one that suffers most frequently from poor postural habits is supraspinatus. Supraspinatus is the uppermost rotator cuff muscle. It lies along the top of the shoulder blade and passes through a narrow passage to attach to the humeral head (ball of the shoulder joint).
Tears can happen through sudden trauma—perhaps due to a fall or a vigorous shoulder movement in sport—or through more gradual wear and tear that leaves the far portion of the muscle like a frayed rug. Depending on the injury, surgical repair may be necessary, followed by physical therapy for up to a year.
The narrow passage of supraspinatus can lead to wear and tear if the shoulder joint is misaligned due to poor posture.
How the Gokhale Method helps restore rotator cuff health
The good news about your rotator cuff is that it can be improved and often fully healed by adopting natural, healthy posture.
The local solution is to learn how to do a shoulder roll. This technique will take each shoulder home to its natural position, where it lived when you were a young child.
The shoulder roll picks up all the bones that make up the shoulder—the upper arm, the collar bone, and the shoulder blade—and allows them to reposition and settle in better alignment with one another. This creates appropriate space for all the soft tissues in the area, including the muscles, bursae, blood vessels, and nerves, so they can function well.
Shoulder rolls are a more effective and sustainable solution than simply pulling your shoulders back or "sitting up straight." These common measures tend to create additional problems such as inflamed rhomboids and a swayed lower back.
To practice the Gokhale Method shoulder roll:
Relax your shoulder girdle

Glide one shoulder forward

Rotate your shoulder upward

Continue to rotate it back as far as is comfortable. Let it relax down.
Tip: Make sure the movement occurs in your shoulder. Resist the tendency to wave your arms, sway your back, or twist your torso or neck.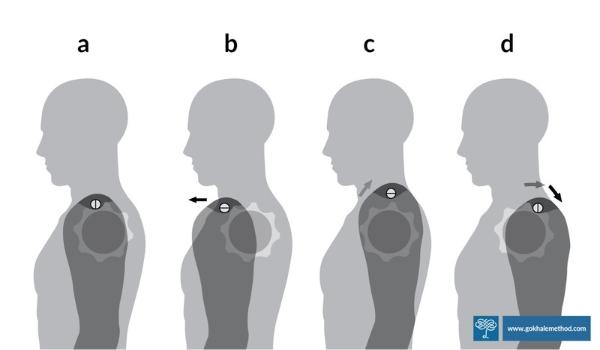 This gentle sequence of movement restores a healthy position for your shoulder joint and rotator cuff—one roll at a time.
Students often report that learning the shoulder roll has brought additional benefits such as a more open chest, improved breathing, and improved blood flow to the arms and hands. Over time, performing shoulder rolls counters thoracic kyphosis, or rounding. Its gentle "massaging" action feels pleasant, can relieve knotted muscle tension in the area, and ease neck tension and headaches. You can make a start on your shoulder roll with our free video here.
Happy shoulders are part of healthy posture
Your new healthier shoulder position will always work best in the wider context of your posture as a whole. A change in one place facilitates shifts elsewhere, and vice versa. For example, your shoulder alignment is affected by your head position, your breathing, the angle of your ribcage and pelvis, and even how you stand. The position of your pelvis in particular affects your shoulders and upper body.
The principles and techniques that will help you to remodel your posture are taught in logical sequence and detail in our in-person Foundations course, one-day Pop-up course, and our online Elements course. If you have or are recovering from rotator cuff problems, the Gokhale Exercise program can help you to exercise in a way that is safe, therapeutic, and fun!
Best next action steps for newcomers
If you would like insight on your posture, consider scheduling an Initial Consultation, online, or in person.
You can sign up below to join one of our upcoming FREE Online Workshops. . .