Mary Walsh (guest author)
By: Mary Walsh, guest author
"Ishi no ue nimo sannen" is a Japanese proverb that roughly means "perseverance prevails." Even the coldest stone will warm up after someone has sat on it for three years — so the saying goes.
So far, my three-year Gokhale Method journey has been all I knew it would be — and much more. When I first heard about the Gokhale Method (on NPR), the blend of art, cultural anthropology, and physiology seemed like a perfect way to combat the ravages of what time, gravity, and bad alignment — despite my best efforts — had wreaked on my body.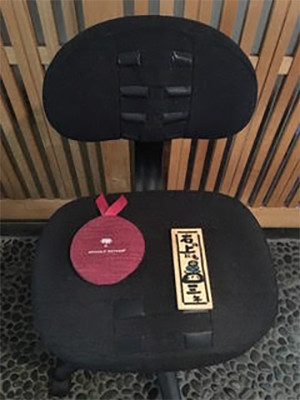 I've kept the Japanese proverb in mind during my Gokhale Method journey.
The negative effects from two decades-old untreated shoulder injuries and a thoracic spine injury from a trampoline accident shortly after I went to Japan in 1972 to teach ESL were starting to add up. Even though I never considered my pain debilitating, it was chronically irritating and noticeably limited my range of motion.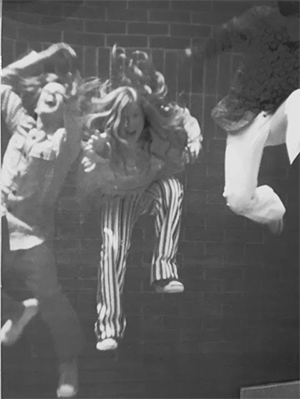 A trampoline accident in 1972 caused a thoracic spine injury.
I had seen relatives on both sides of my family tree corkscrew down several inches by the time they reached their mid-90s and had noticed how it affected their breathing. The Gokhale Method seemed like the perfect vehicle for overcoming gravity and moving my body through space in the most erect, effortless way possible for as long as possible.
Since 2015, I have continued to build on my successes despite losing most of the vision in my right eye when I had a CRAO (eye stroke) in the fall of 2015 and having my left hip replaced in July 2017. In both cases, having better posture was a huge benefit during the recovery process.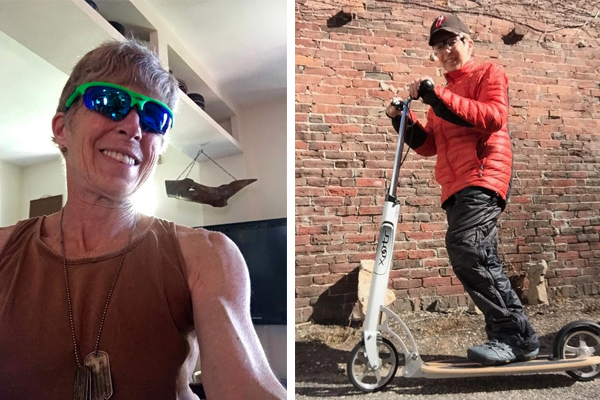 After my CRAO, I got a pair of eyeglasses that made a world of difference (left). My Xootr helped me get around quickly (right).
I saw my hip replacement as the perfect opportunity to work on my alignment. I also knew that I would need lots of bodywork and was looking for an acupuncturist/energy worker to address some major blockages. I truly hit the jackpot since the local Gokhale instructor in the Boston area, Quigley Raleigh, is not only an acupuncturist but also lived in Japan, speaks Japanese, and understands my experiences with "Ki" from the Japanese perspective. We have made fabulous progress this past year and most importantly are still on a positive trajectory.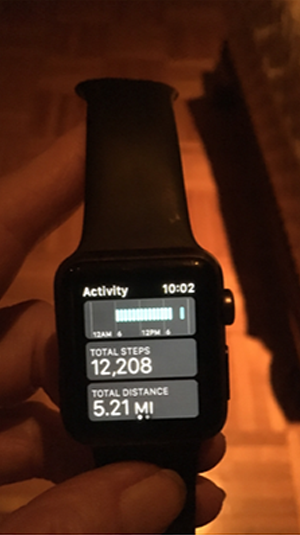 Just two months after my hip operation, and shortly after beginning work with a Gokhale Method teacher, I was able to comfortably achieve my goal of walking five miles in a day.
Last July, I threw my dance phobia to the wind and signed up for Esther's "Posture-Dance Connection" course at Kripalu. I am now on board with dance as a wonderful adjunct to my Gokhale practice.
In 2017, I became interested in the musical bones and wondered if learning to play them might help with posture. Musicologically,  the bones are attributed to the Scots-Irish who settled in Appalachia. The bones, together with the banjo brought over from Africa, were part of the very roots of American music. Perhaps they resonated with me since I am of Irish descent and remember the sound from childhood?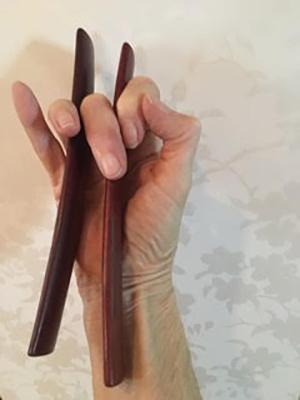 The bones are simply two pieces of wood — one held stable and one swinging freely. The sound is produced by the action of your wrist (as when turning the ignition of a car or flicking a whip) or a combination of your wrist and elbow (like a windshield wiper) while keeping the shoulders stable. I thought they could serve as a primitive posture tracker, since the better your posture and hand position, the better the sound that is produced.    
I think the bones work very well with the "ratcheting" of the shoulders concept in the Gokhale Method. I use them to ratchet and fine tune myself into better alignment and to gently coax some of the kinks out in a fun way. They can work with yoga poses and meditating, as well as dancing. Here's a sample:
When people ask me why I continue to practice the Gokhale Method, I tell them I like to think of the Gokhale Method as the Seinfeld of posture methods. Just as Seinfeld was said to be "the show about nothing" at first, the Gokhale Method might appear to be about nothing. You are simply learning to sit, stand and walk. But you are learning to do these daily activities in an efficient manner throughout the day doing whatever it is you might find yourself doing. You can even do it while you sleep! So, far from being about nothing, it's actually about everything….and that's really something!!
My first three years of Gokhale Method practice could not have been scripted better. I had my picture taken with Esther at Kripalu while sitting on a Gokhale Pain-Free™ Chair holding my proverb. I must say, it was much more comfortable sitting on a chair than it would have been sitting on a rock. Perseverance prevails!!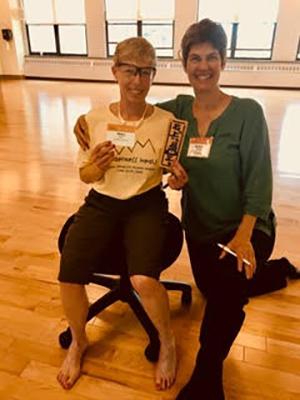 ——

All images courtesy Mary Walsh.