Podcasts are one of my favorite media. It's hard to reimagine a time when you couldn't take your pick and enjoy their entertaining and compelling content. Over the years I have been invited to be interviewed for many podcasts about the Gokhale Method®, and for this blog post I would like to introduce you to three of my favorites, which I hope you will now enjoy if you haven't done so already.
My Body Odyssey
A recent interview was for the Fluent Knowledge series, My Body Odyssey. Fluent Knowledge introduces their audience to experts who convey knowledge on important issues, topics, and trends in wellness, neuropsychology, media, and politics. It was a pleasure to discuss the root causes and solutions of modern back pain with them.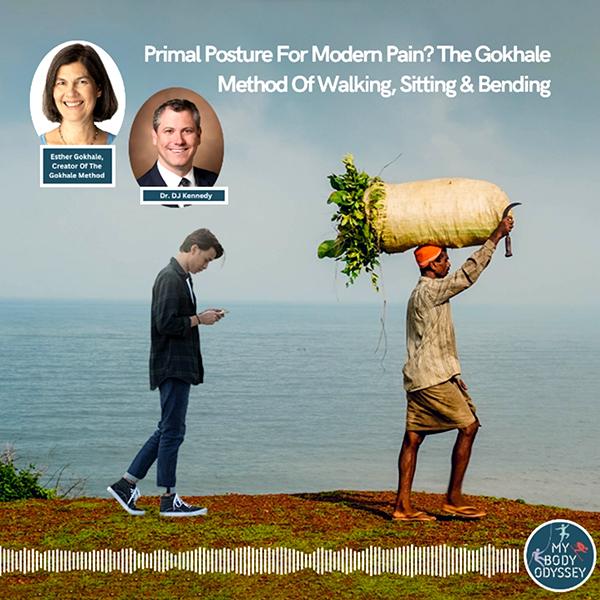 Artwork by Emily Crocetti for Esther Gokhale podcast with My Body Odyssey for Fluent Knowledge
For the podcast I introduced Fluent Knowledge to my friend and advocate of the Gokhale Method, Dr. D.J. Kennedy, Professor and Chair of the Department of Physical Medicine and Rehabilitation at Vanderbilt University Medical Center, who you can hear in the brief audio clip below.
The podcast is an elegant production, weaving the Q&A between the interviewers and myself, along with Dr. Kennedy's commentary and that of back pain contributors, in a well-constructed and informationally rich blend that is easy to listen to. I particularly like that it covers both the Gokhale Method's respect for the ancient roots of healthy posture, and our engagement with modern science and technology to confirm and augment the efficacy of our teaching.
My cohosts were Brittany Thomas and Robert Pease, and it turned out that Robert was one of the 80% of Americans who suffer back pain. Hearing back from Robert recently, I am delighted to share that he is already experiencing substantial improvements by implementing Gokhale Method techniques:
Fluent Knowledge also featured a complimentary blog post with an interesting timeline of posture pioneers which you can find here.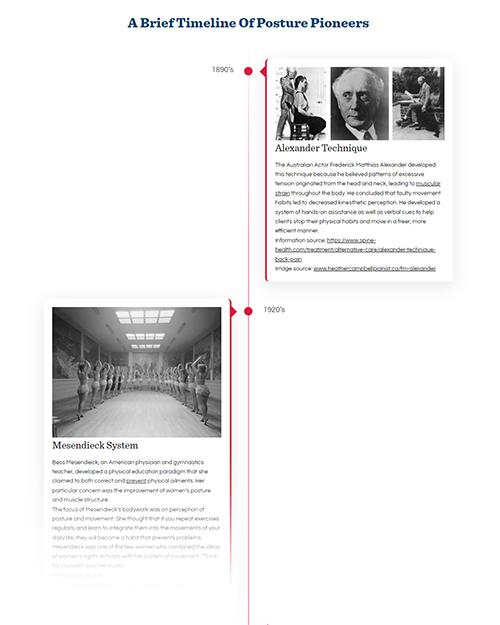 Screenshot from fluentknowledge.com
Listen to the My Body Odyssey podcast:
on Apple
on Spotify
Hypermobility Happy Hour
My second podcast pick goes back to June 2020 and a talk with Kerry Gabrielson, founder of the Hypermobility Happy Hour. Kerry's podcast grew from her own experience, and is dedicated to discussing hypermobility conditions, including Ehlers-Danlos Syndrome (EDS).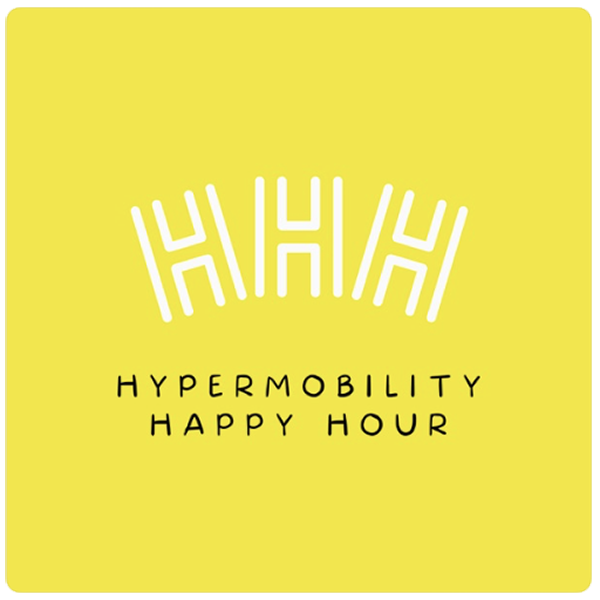 Artwork from Hypermobility Happy Hour
We talked about how COVID-19 had necessitated further development of our online teaching, giving rise to our Elements course. Kerry was quick to appreciate its potential for widening access to the Gokhale Method and enabling a greater impact on our runaway U.S. back pain statistics with a relatively low-cost, noninvasive approach.
One of the challenges we both appreciated was the roller-coaster of raised and then crushed hope that many back pain sufferers ride. Musculoskeletal problems can be especially unpredictable for people with hypermobility conditions, and stabilizing the joints through healthy postural alignment, and knowing the techniques to get there, are key.
I was pleased to offer HHH listeners some practical posture guidance—how to engage their inner corset, the column of muscles in our torso that protects our spine from compression and jarring:
Since the podcast, we have been able to update Kerry on the launch of PostureTracker™, our 2-sensor Bluetooth wearable and app. I am particularly excited about its applications for people with hypermobility. For example, they can be particularly prone to hyperextension in the knee joint in standing, walking, and running, but PostureTracker™ can catch this in real time, giving users visual, audio. or vibration feedback and allowing them to self-correct. Kerry and I look forward to future conversations.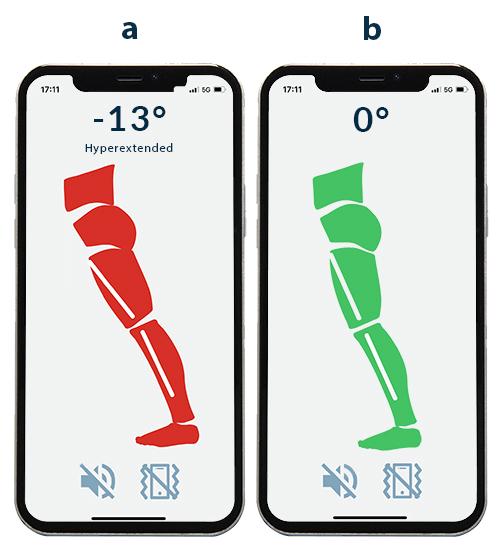 PostureTracker™ will alert wearers when they inadvertently hyperextend their knees (a.). With Gokhale Method techniques and know-how they can then correct this habit and return to a safe range of motion (b.), preserving healthy knee joints.
Listen to the Hypermobility Happy Hour podcast:
on Apple
on Spotify
on SoundCloud
So Frickin' Healthy
My third podcast is Back in the Game, a podcast for So Frickin' Healthy, hosted by Megan J. McCrory and Danna Levy Hoffmann. For this podcast I was joined by Gokhale Method teacher Julie Johnson.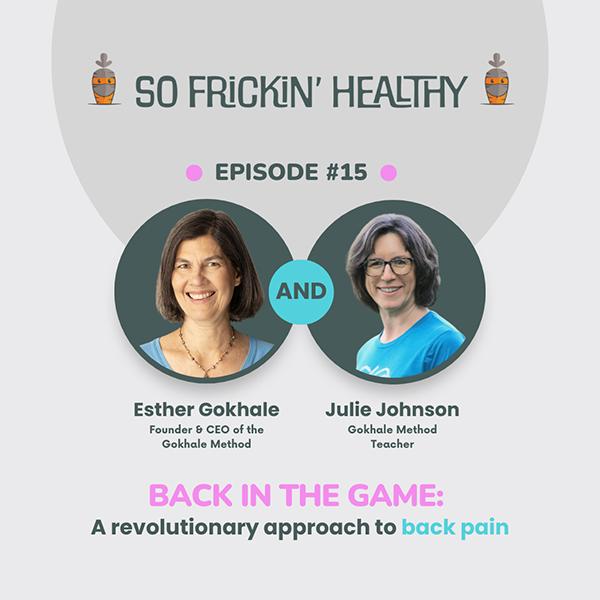 Artwork from So Frickin' Healthy
I experienced a serious episode of back pain while pregnant—in Julie's case, her back pain started after giving birth to twins. If your posture is not as healthy and your structure not as robust as it might be, the extra stress of pregnancy or birth can be "the straw that breaks the camel's back."
It is worth saying here that in pregnancy our structure has to contend not only with the additional weight of a baby (or two), but also the effect of increased relaxin. Relaxin is the hormone which helps loosen muscles and ligaments in the pelvis so it is ready for birthing, but it can also bring greater mobility throughout the body. This can leave a pregnant woman especially vulnerable to back and joint issues, including flat feet. And if you already have hypermobile joints, you can all too readily find yourself in extra trouble.
Fortunately, as I, Julie, and the many Gokhale Method Alumni can testify, by aligning our bodies well and avoiding the pitfalls of poor posture it is possible to get "back in the game," active, and pain-free once again.
Listen to the So Frickin' Healthy podcast:
on Apple
on Spotify
Spread the word
If you would like to let friends and family know about the Gokhale Method approach to back pain, please share our podcasts.
Catch our new podcasts in the "In the News" section of our free newsletter Positive Stance (subscribe). You can find all our podcast recordings here on our website.
Best next action steps for newcomers
If you would like insight on your posture, consider scheduling an Initial Consultation, online, or in person.
You can sign up below to join one of our upcoming FREE Online Workshops. . .