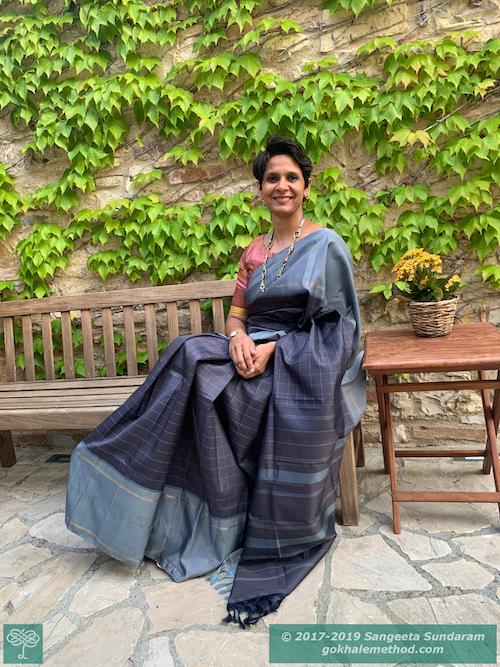 Aarani silk from Tamil Nadu, Southern India. Aarani, a small town, weaves only silk sarees in 3-plied or 2-plied yarns, making it a lighter silk to wear. The first national flag of independent India hoisted at the Red Fort is rumored to have been woven in Aarani. Stacksitting helps showcase the saree in its full glory.
People who know me well have come to associate me with my posture work, my love for sarees — the traditional Indian unstitched garment — and my frequent travel owing to my management consulting work. This is an accurate perception: I love all these things.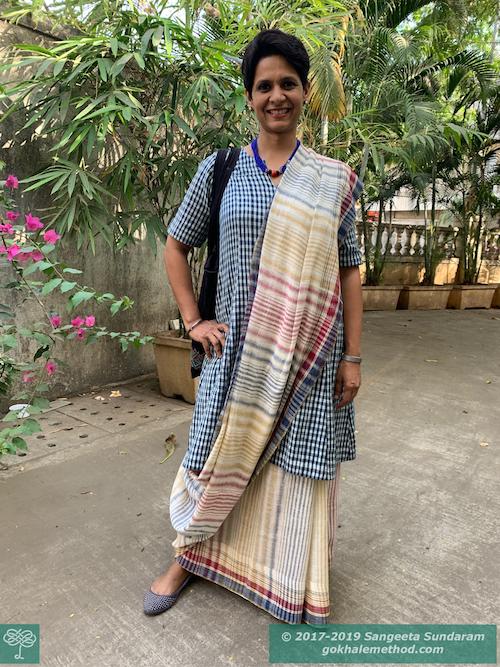 Bhujodi cotton from Gujarat, Western India. Made in a small town near Bhuj, this Khadi fabric is fully made of organic cotton grown in the region. Originally a weaving technique for shawls, it has been adapted to sarees in recent decades. Once you know to tallstand, you can shift the position of your legs.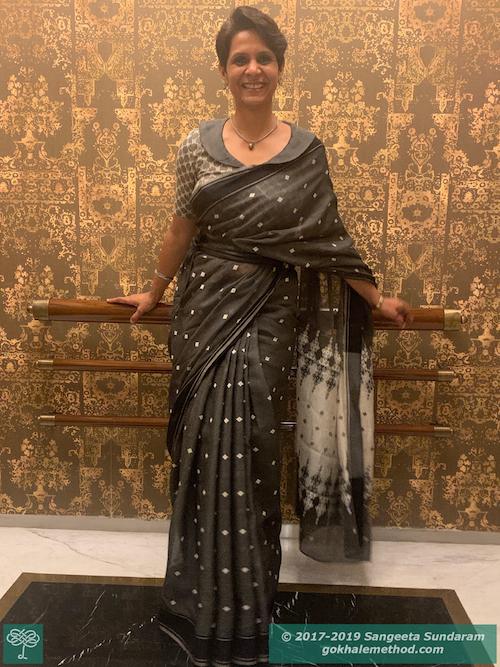 Chanderi Silkcotton from Madhya Pradesh, Central India. Woven in the town of Chanderi, these sarees were patronized by the royalty of the region. They are known for their sheer, gossamer texture. Shoulder rolls always help show off the neck.
I am proud of the work I do in posture. It is not an exaggeration when I say that learning the Gokhale Method from Esther in 2012, after suffering from back-related issues for over 16 years, has changed my life. Along with helping me regain my lost posture, it helped deepen my understanding of my body and gain better control over it, and enhanced my sense of confidence. Becoming a Gokhale Method teacher has helped me practice the method diligently in my own life and help others who want to learn it for themselves. A striking aspect of the Gokhale Method, and one which has impacted my outlook on many fronts, is the fact that one can marry tradition with modernity.
Many things in the modern world affect our posture. Poorly-designed furniture, changing movement habits, and sedentary work are often blamed for most musculoskeletal ailments. However, this is our reality, and one cannot give up everything and go back to what our ancestors did for their livelihoods. The Gokhale Method helps us adapt natural and traditional body wisdom to modern ways of life. My students are surprised when I tell them that they don't have to give up anything at all, but rather can learn to reach into their ancestral past and bring some habits into the current. We help people transition from a paradigm of "don't do this" to a world of "you could do it this way," based on the learnings from our ancestors and people in cultures where this wisdom has been retained. "You could do it this way" is an empowering view.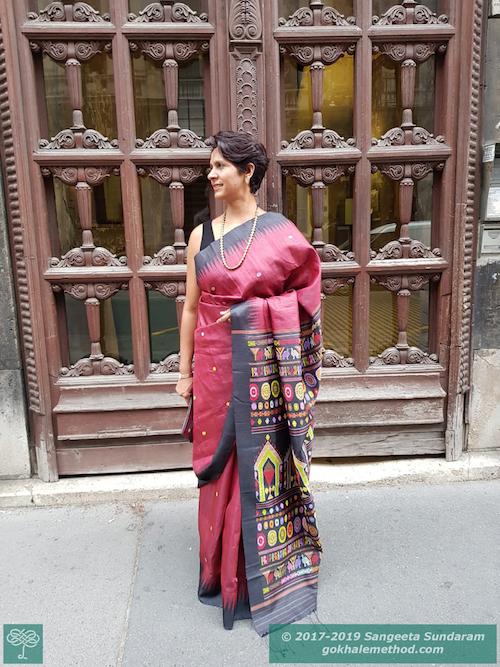 Dholabedi from Odisha, Eastern India. Odisha can easily be the Burgundy of sarees, as every sub region has its own specialty. This one is known for the "dola," the house like structures that are woven as an extra weft, representing the altar of Lord Jagannath of Puri. Pivot the neck and look tall.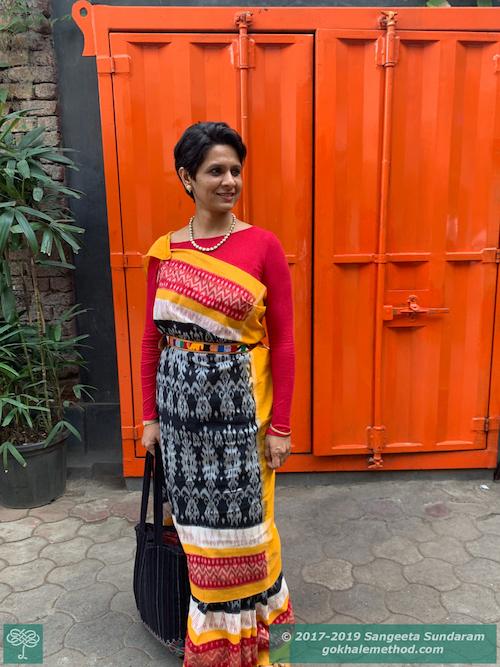 Pochampally Ikat from Telengana, Southern India. Ikat is a technique that spans from Central America to Japan. The specialty is the patterns, which are decided while preparing the yarn and dyed accordingly with mathematical precision. The weaver then weaves the patterns on the loom with meticulous planning which always boggles my mind! A well-placed shoulder ensures the hands fall to the side.
My love for sarees comes from this same paradigm of marrying the traditional with the modern. This garment, which most women of my mother's and previous generations wore all the time, was lost for many of my generation. Like many others, I adopted outfits from other cultures, as doing so was considered "modern." Traditional wear was relegated to special events. My connection with my heritage was locked in a wardrobe — until I learned to look at the meaning behind these beautiful handwoven fabrics I had. As my interest grew, I discovered the uniqueness of each of these weaves and the stories they spun. One estimate says that there are over 450 varieties of hand-woven textiles in India, each telling a unique tale about the region, the terrain, and the way of living from which they arose. I know only a fraction of the tales these textiles have to tell.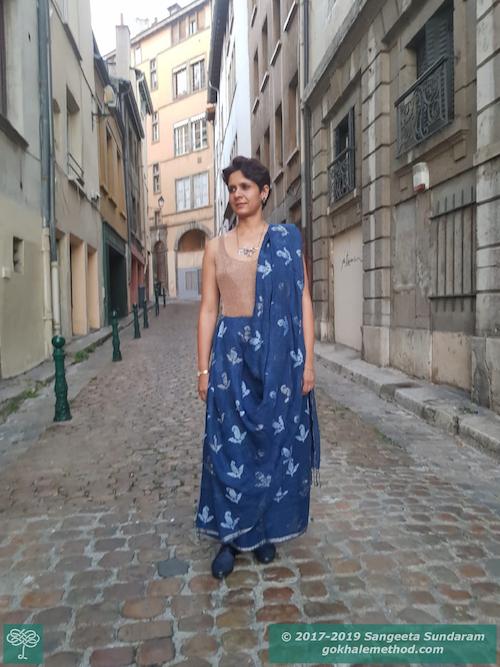 Natural indigo linen with motifs in jamdani from West Bengal, Western India. Growing indigo changed the history of Bengal forever. It still remains a sought-after pigment for its depth and unique color. The 3x3x3 of tallstanding always helps.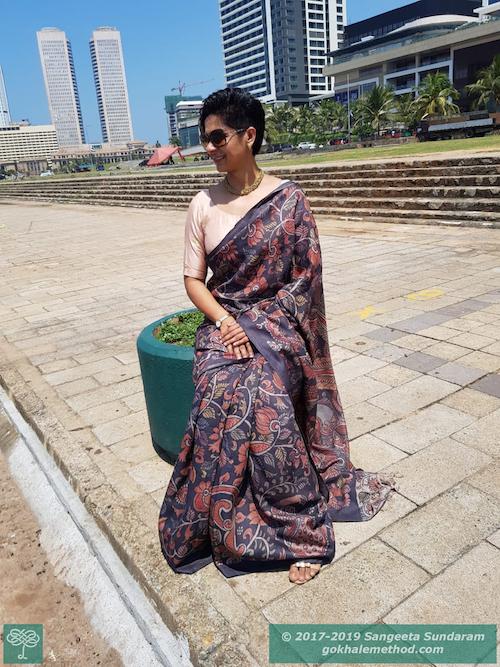 Handpainted Kalamkari from Andhra, Southern India. Can you imagine painstakingly hand-painting every inch of 6 meters of cloth in natural colours? Mostly done by women craftsman, this is an exquisite art form. Don't miss the stacksitting!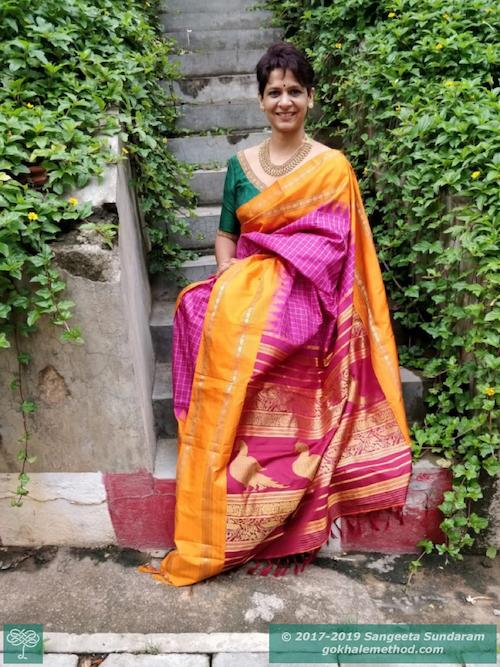 Kanjeevaram silk from Tamil Nadu, Southern India. The "Queen of silks" woven in the town of Kanjeevaram, this weave represents true commerce with mulberry silk yarn from Mysore and gold thread from Surat in Gujarat. The body and the border are woven separately and integrated with the special technique of "korvai," requiring two people to work together simultaneously. Once you learn to stacksit, you can sit on any surface with ease.
Wearing these sarees has helped me understand my own heritage a little better. And they helped me realize I do not have to give up tradition in order to exist in the modern world. Instead, I can adapt tradition to flow in ways that feel contemporary. That means, for example, I drape the saree differently depending on context. I experiment with mixing-and-matching, bringing elements from my Western wardrobe into play with elements from my Indian wardrobe. I wear the saree short or long, depending on what the fabric feels like. I adapt different regional draping styles that suit the occasion — there are over 200 documented regional styles in India alone! I wear it at home, out at work, and overseas when I travel. It is a beautiful experience that helps me come home to myself.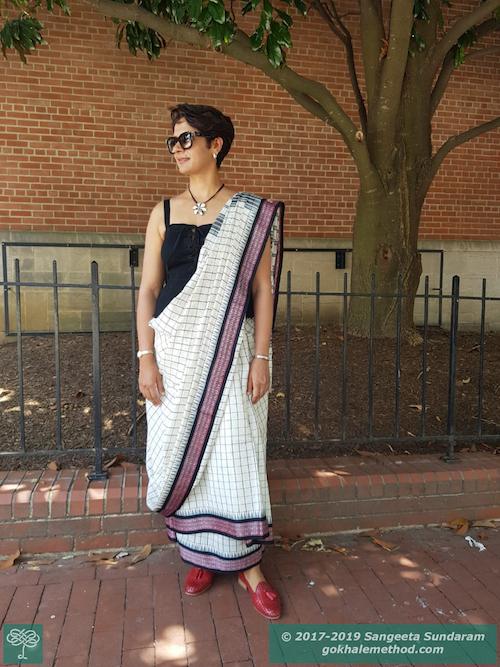 Karvati Kinar from Maharashtra, Western India. From the Vidarbha region of Maharashtra, known for its arid terrain. This saree is mostly woven in a rough silk and has unique "mountain" motifs in the border. An anteverted pelvis helps us stand restfully.

Pochampally silk from Telengana, Southern India. Just look at the modernity in the ikat motifs! Who would imagine that the weavers have never left their villages, yet can create such marvelous designs and such a sophisticated color palette? Once you learn tallstanding, you don't need high heels!
Sometimes it seems that moving with the times means giving up things from the past. But if we look carefully, the present is actually interwoven with the essence of the past. They are not necessarily at odds. Uncovering the meaning of the past and blending it with the needs of the present creates gracefulness. Beauty lies in this harmony. The saree and the Gokhale Method: both are traditional, elegant tools to achieve harmonious results, blending past and present.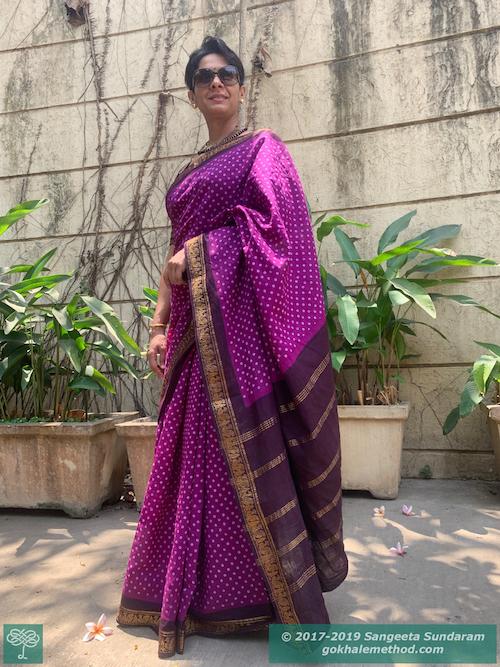 Sungudi from Tamil Nadu, Southern India. A tie-and-dye technique from Madurai, this has an interesting history of internal migration. Settlers from Gujarat in the west of India who came to this region brought this art form along with them in the 16th century. Have we said enough about tallstanding?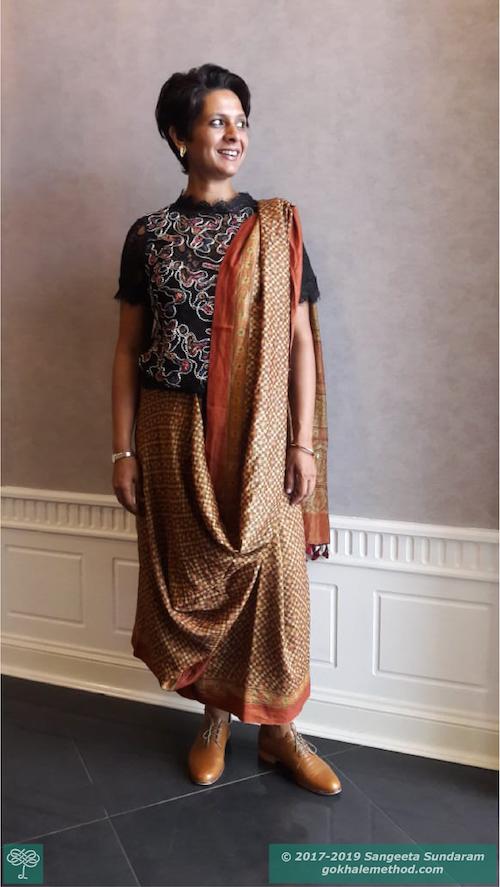 Ajrakh handblock-printed saree from Gujarat, Western India. This saree demonstrates a unique block-printing technique that involves 14 different steps and has a history spanning centuries. Even today, many motifs exhibit Persian influence. Does this have a Greco-Roman feel in the draping and the posture?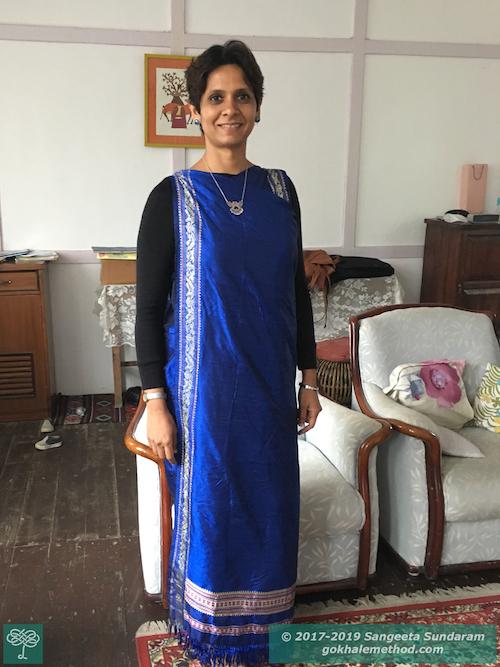 Jainsem from Meghalaya, North-East India. A two-piece textile that is worn as a layered outfit by the Khasi tribe in this region's pristine, hilly terrain. Traditional clothing was and is designed for practical, everyday movements with ease.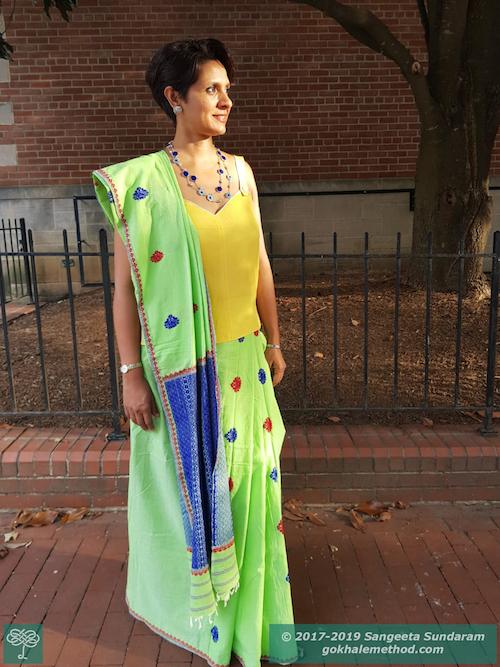 Boro from Assam, North-East India. A beautiful cotton with motifs made from extra weft, and which has a unique feature: the border is woven separately and then stitched on top. Creativity has so many different expressions!

Sangeeta Sundaram is a qualified Gokhale Method Teacher based in Mumbai, India.