One of the great strengths of the Gokhale Method is that you learn it doing practical activities, like sitting and walking; you then practice it during your day-to-day life. Regular tasks like driving the car and household chores, and leisure activities like gardening and playing sports, become not only safe and comfortable, but actually therapeutic. If you are fortunate enough to live with a dog, you have a very special opportunity to hone your posture skills.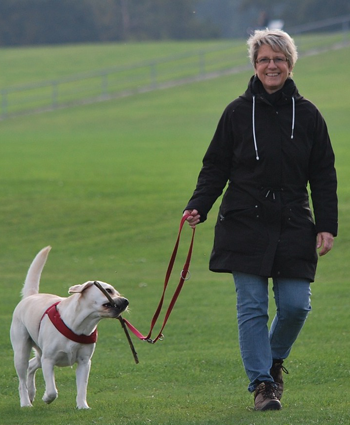 Daily dog walks are great training for your posture! Photo courtesy Pixabay.
Firstly, you will probably be walking your dog every day — maybe twice or even three times a day. The regular nature of this activity is a huge boon for establishing good postural habits. The assured minimal frequency of 1-3 times a day is also great. Back in the times of Ancient Greece, Aristotle said of repetition, "it is frequent repetition that produces a natural tendency" (Ross & Aristotle, 1906, p. 113). So your daily dog walks are not just about training your dog; they are also an amazing way to train yourself!
Walking your dog builds in a big "posture reminder" to your day. Even when life is busy, you will be walking your dog, and in doing so, you will likely recall your new posture habits. Aristotle observed this trait, too, saying "the more frequently two things are experienced together, the more likely it will be that the experience or recall of one will stimulate the recall of the other" (p. 35).
A dog walk with a posture workout
With a little ingenuity, your daily dog walk can also be a great posture workout. However far you venture, you can divide your dog's "walkies" up so that each section of the route can be used to focus on a particular aspect of your posture. For example, one block could focus on squeezing the gluteus medius buttock muscles, the next on push-off from the rear heel. If you are out on a trail, you can change your exercise from landmark to landmark. All this practice will accelerate your progress and soon build up your strength, coordination, and confidence.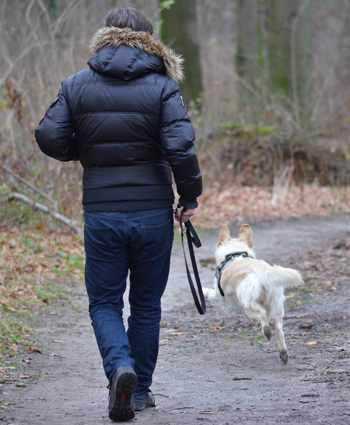 Balance and stability come with strong glutes. Photo courtesy Pixabay.
Well-developed gluteal muscles (buttocks) are a major contribution to an easy yet powerful stride. They also play a major role in maintaining your balance — so that you are not going to be pulled over by a large dog, or bowled over by boisterous play.

Bending safely
Dog walking includes some responsibilities, including (in urban areas) picking up your dog's poop. The Gokhale Method comes to your service with expert advice! Bending down to the ground is often where people get into trouble: rounding their backs, distending their spinal ligaments, and loading and wearing and tearing their spinal discs.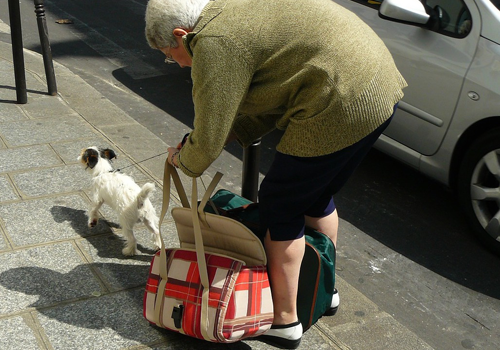 This woman is rounding her back, distending her spinal ligaments, as well as loading and wearing her spinal discs. Photo courtesy Pixabay.
But when you bend well, bending is transformed into something that keeps your muscles strong and joints mobile. You can observe in the humorous picture below how the back remains straight as the bend happens deeply around the hip joint.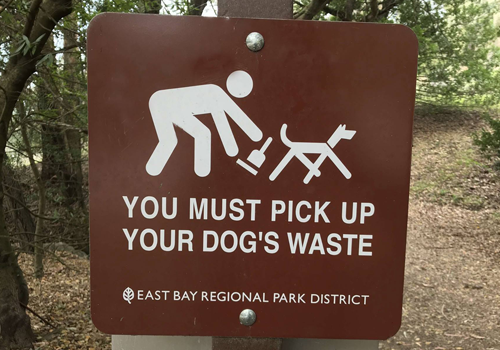 This simple sign depicts a nice, straight back — a key feature of a healthy bend! Photo by Monisha White.
If hip-hinging with a straight back is not your usual way of bending, however, then it is important to first get guidance from a Gokhale Method teacher, or work carefully through Chapter 7 of my book, 8 Steps to a Pain-Free Back, to ensure that you are able to make this natural movement correctly and safely. You will also be able to put food down for your dog without risking your back going into spasm.
Most times, however, you will be bending down just a little to pat, groom, or put your dog on the leash. Most of our students report finding these smaller bends more difficult to remember to do well, so be super vigilant about this. Notice in the image below how the owner's back and torso remain straight and she rests her weight on her elbows while talking to her dog.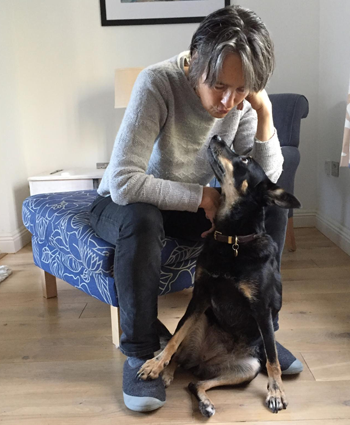 Remember to hip-hinge for smaller bends — even though your dog loves you no matter your form! Photo courtesy Clare Chapman.
Protecting the upper body
A frequent problem for owners is that their dogs pull on the leash. This is a very detrimental habit, which would best be addressed at puppy training or with a dog trainer — there is lots of experienced and expert advice available. Until this behavior is improved, it is important that you protect yourself by arranging your shoulders in the best position possible using a shoulder roll, keeping the back of your neck tall, and using your rib anchor to help you maintain this architecture rather than letting the dog pull your upper body out of alignment. Softness at the elbow (slightly bent, not straightened all the way out) and a straight wrist will also help avoid damage to the delicate structures of the forearm.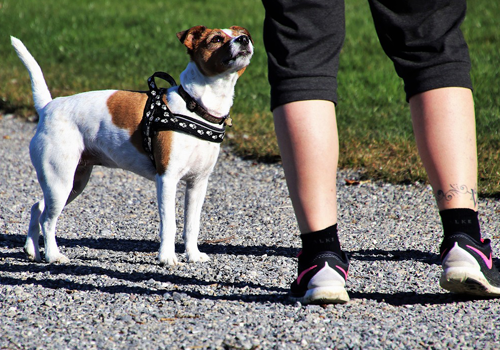 Puppy classes and agility training are great for you and your dog! Photo courtesy Pixabay.
If a dog pulls strongly, you also don't want this pulling to jar and twist your spine — engaging the deep abdominal muscles and deep back muscles of the inner corset is important. This natural corset of strong, protective trunk muscle is also important to protect your spine and alignment when you are throwing balls or frisbees for your dog to fetch.

Are you using dog walks as posture practice time? Let us know in the comments! And, don't miss the second installment of this story!