Ideally, there would be a Gokhale Method teacher in every town. That way everyone could take their Foundations Course alongside an experienced teacher in the traditional way, with easy communication and plenty of hands-on guidance — plus the fun of a class atmosphere. In fact, we do our level best to make this a reality, and can usually arrange a course in any town where there is enough demand. If you have a group of friends or colleagues wanting to learn, you can even request classes in your town right now!
But sometimes traveling to a course — for students or teachers — is not the answer. It may be that someone lives remotely or has responsibilities that make traveling impossible. So, even while the Gokhale Method celebrates the power of a very ancient posture-wisdom, we like to harness the very modern power of the internet and offer our teaching online, too. When offered online, our Foundations Course, Continuing Education lessons, and Initial Consultations are available in one-on-one formats only, to allow the kind of customized learning we consider important for beginners.
In this post, Eve Ridoux talks about how she learned the Gokhale Method online from her remote home in the French Pays Basque. Back in the spring, she set the ball rolling when she contacted me, Clare Chapman, a Gokhale Method teacher based in Bristol, England.
Eve: I had the honour and delight of meeting Clare a few months ago when I was wondering if I could learn the Gokhale Method online. At that time I knew very little about the method but was attracted to know more.
I live in remote French Basque country, and it was not possible to find a teacher in my area. I thought it would be quite difficult for me to learn the basic movements by myself with only a book. Finding Clare on the website was done in a totally intuitive way — I chose her and I will never regret it!
We had a first interview online to get to know each other. Clare explained to me how the lessons would progress and we did planning together for the 6 classes. We were easily able to choose dates that were convenient for both of us. I did really love the flexibility of scheduling 1-on-1 online lessons so I could learn at my own pace and integrate that study in my busy schedule. We decided to use Zoom video technology for my lessons, which allowed Clare to easily share class slides with me.
I immediately appreciated Clare's warm welcome and was impressed by the way she could explain things so easily with a real professional attitude, keeping the atmosphere very enjoyable. I felt immediately at ease.
During the lessons, I learned a lot because I could see so well how Clare did the poses on the screen. Clare is such a great teacher — she covers it all and is very open to any and all questions. It was as if she was in my house! As she felt so close, concentration was easy and I could show her how I did the movements and she could correct me as she watched me on the screen.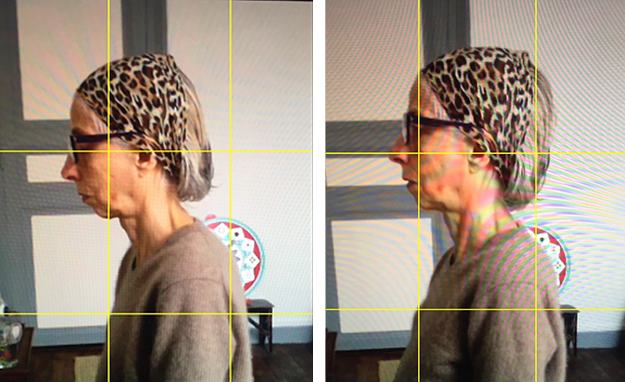 Eve learning to adjust her neck position.
Clare also prepared a slideshow that I could watch while she was commenting. The slides were a great illustration of what the method is all about and made direct connections with the exercises we were practicing that day.
After each lesson, I received some homework by email to practice and help me prepare for the next lesson. I was not always the best student as I am very slow and lazy with homework practice!
I did appreciate the fact I could email Clare whenever I had questions and she would always reply to my requests. I could really put my trust in her. She was even there supporting me when I asked her advice about an armchair I wanted to buy — I sent her this photo of me sitting on it in the shop to find out if it was a good chair for maintaining good posture!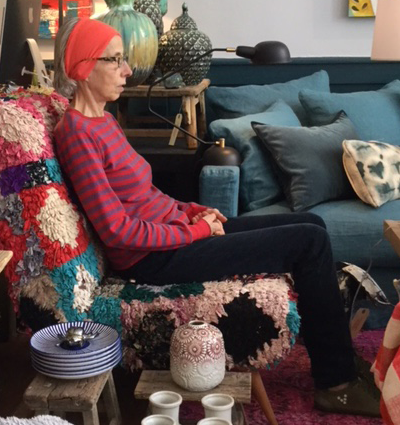 Try before you buy! Photo courtesy of Eve Ridoux.
Since I took the Foundations Course in my own house, Clare got a good feel for my way of living. When she found out I have stairs, she explained how to go up and down the stairs the right way. We also studied my posture during an everyday task in my bathroom, where I wash my face and splash water on it. I used to bend toward the sink with rounded shoulders, but now I know the correct pose — no more rounded shoulders and back!
I could carry on giving good reasons to do classes online, but I will simply say that learning online is great and so useful and convenient for people who can't reach in-person classes. I still felt close to my teacher and I really learned the basics well, thanks to Clare's teaching.
I am looking forward to meeting Clare one day and going for a weekend live class. But until then, online classes gave me a great opportunity to practice, understand the postures, and integrate them in my daily routine.
I highly advise taking lessons online and really hope you will enjoy them as much as I did!
Merci, Clare!

Clare: I love Eve's charm, enthusiasm, and generous spirit! I am somewhat embarrassed by such lavish praise, but so pleased that she found online learning a great way to take her Foundations Course. And being in her home, Eve was able to integrate it into her life immediately. The teaching skills we deploy in the regular course, particularly giving clear demonstrations and using slides to illustrate points alongside verbal explanations, were all put to good use to make things clear via a screen. It will be wonderful if I can meet Eve in the future for an in-person lesson — let's hope so!
Special considerations:
You will need a good internet connection that can handle live video. We have found Zoom is one of the best programs to use (and it's free!), so that you can see slides during your lesson, just as in our usual Foundations Course.
You need to take your lessons in a well-lit and uncluttered space so that your teacher can see you clearly as you sit, stretchlie, stand, bend, walk, etc.
You can arrange to work with any Gokhale Method teacher. Just check that their time zone — and of course, language — is a good fit for you.
In addition to our Foundations Course, our Initial Consultations and Continuing Education lessons are also available online, so if this a good way for you to get started, or you have been wanting a refresher lesson but can't attend a class right now — follow Eve's lead! We look forward to seeing you online!
——
We are not affiliated with Zoom in any way. We just like their technology :)