This is the fourth blog post in our series on old family portraits and photographs. Previously we have looked at how antique images can inspire us to improve our posture in the Upper Body, Lower Body, and Small Bends. Here we are going to focus on how old family photos from abroad make a special contribution to our posture knowledge. 
Photographs as historical evidence
Antique photographs are often notable for the healthy posture they capture. Even images taken well into the twentieth century are likely to show healthier posture than we see around us today.
In the US you have to go back several generations to reliably find images of healthy posture, and usually even to a time when photography was not widely available due to its elaborate processes and cost. Had the first immigrants to North America settled later, we would have much more photographic evidence of their intact posture. As it is, we have rare but valuable examples from the 1840s onward.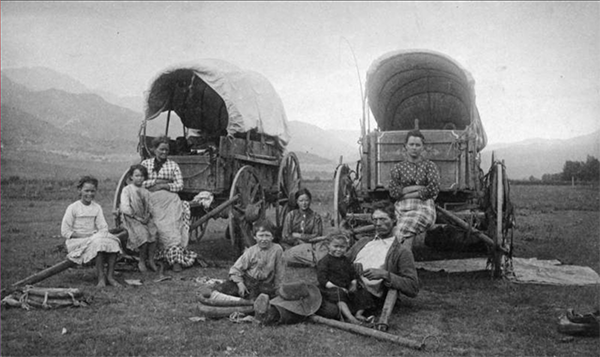 These European settlers all show a preference for sitting with a straight back.
Sharing our heritage from abroad
People with heritage from abroad will often have photographs of their family, especially parents and grandparents, showing excellent posture. Immigrant parents frequently bring excellent posture with them from their homeland, while their children grow up adopting the tucked and slouched posture they see around them in the US.
In our "bring and tell" sessions on our Alumni 1-2-3 Move program participants have generously shared their own family photographs. It is noticeable how many of their ancestors and older generations from abroad have particularly wonderful posture. Their posture would not have been exceptional back then, but today we can find it an inspiration for our own personal posture journeys and improvement. 
Lucy Atkin shares a photograph of her maternal grandfather on the 1-2-3 Move program. He was of German/Prussian descent. It shows a lifted sternum, a tall neck, his head turns on the axis of his spine, his eyes look ahead.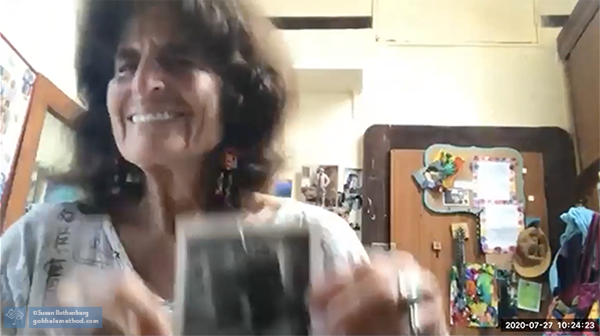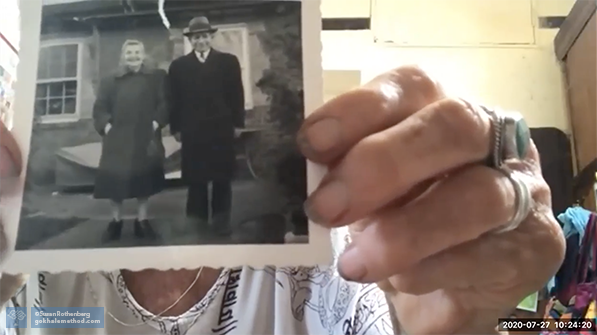 1-2-3 Move participant Susan Rothenberg shares a photograph of her paternal grandparents from Lithuania. Their feet are turned out and their shoulders are back and wide.
The decline of posture in the US
Posture deteriorated sharply with the "flapper generation" in the 1920s, and then nosedived again after World War II. The decline in our posture over the generations is a fascinating story, which I have written a little about in my book, 8 Steps to a Pain-Free Back. 
I consider there are two main reasons why posture deteriorated more rapidly in the US, while the "old countries" kept it intact for longer. Firstly, when young adults are transplanted from their place of origin, they lose some of the kinesthetic traditions that would otherwise be reinforced by their parents and grandparents—for example, how to perform tasks in the fields, or raise children, with all the lifting and carrying that involves. Even rest positions for sitting and sleeping well can be forgotten. 
 

As children we learn what we see around us—and that goes for healthy posture too. 
Secondly, due to its pioneer days and mainly youthful immigrants, the US evolved a culture and commerce driven by innovation. While this dynamism has brought many benefits, prizing innovation also has its downside. New fashions, furniture, and lifestyles have been developed and adopted indiscriminately, often with a damaging impact on posture.

Posture deteriorated sharply in America from the 1950s—a decade earlier than in most of Europe. Crain's Chicago Business
Looking back to our heritage
"Modernizing" trends from the US were slow to take hold in Europe, due in part to postwar austerity, and this meant that more traditional posture often persisted well into the 1960s. It is not uncommon for today's seniors to have photographs of themselves as children in the 40s and 50s with parents and grandparents showing largely intact posture, especially if their roots are abroad. You can observe chins rested down, wide, open chests, and externally rotated legs and feet.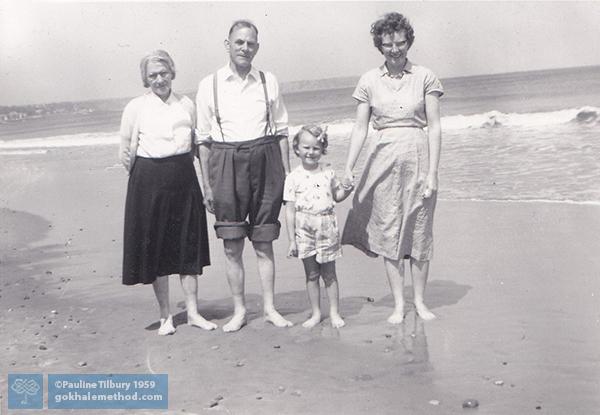 Gokhale Method alumna Pauline Tilbury, aged nearly five, at the beach in Filey, England, June 1959. Her grandparents in particular show the open posture typical of their generation—and children.
Some readers will recall the beautiful photographs in the post Posture in Old Lithuania by Gokhale Metho​​d™ teacher Aurelia Vaicekauskas. Aurelia came to the US with her parents from Lithuania in 1979. Her post shows the inspiring posture of the people there as they lived and worked in their traditional communities.
Aurelia's post Teaching My 95-Year-Old Lithuanian Mom the Gokhale Method includes this wonderful family photograph, posed on her mother's wedding day in Kaunas, Lithuania in 1957, with everyone exuding elegance and poise. Truly, when it comes to posture, looking back to our heritage is one of our best ways forward.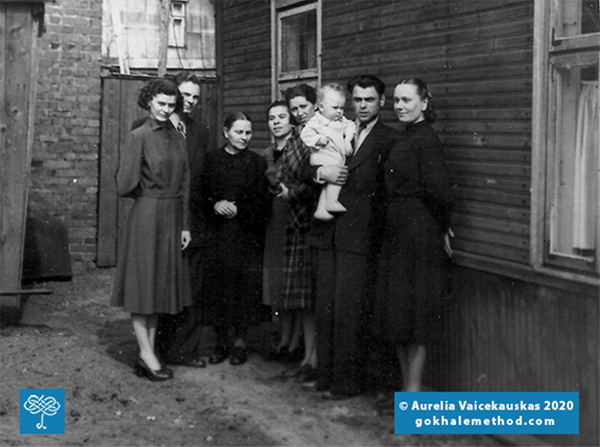 Gokhale Method teacher Aurelia Vaicekauskas' parents (far left) in Lithuania with family on their wedding day.
We work diligently to bring healthy, natural posture within the most modern of contexts here in the US. We are grateful that this posture remains embodied in various populations around the world, and embedded in historical art and sculpture the world over. We also celebrate its existence in the photographic records of our relatives from abroad.
You are invited to share any of your family photographs of ancestors from abroad in the Comments below this post. (Log in and click on the upload picture icon, far right
.)
Free Online Workshops
If you would like to find out more about how the Gokhale Method can help support you, sign up to join one of Esther's upcoming FREE Online Workshops.