Joan Baez has upgraded her posture since this photo was taken, with benefits for her whole body.
If you've been participating in our ongoing Posture 1-2-3 Challenge for alumni, chances are you've seen my longtime student, Joan Baez, who regularly joins in. At age 79, she's sturdy and beautiful, with shapely legs, toned arms, and a peachy, perky butt. Although we've all enjoyed her bodacious pipes for many decades, she hasn't always been such a well-rounded posture student. In her 20s and 30s, her boombox was highly functional, but her booty was lacking.
Case in point: in 1973, at age 32, Joan visited Sing Sing to perform for the people imprisoned there. Her set list included the rousing anthem "I Shall Be Released," followed by "Viva Mi Patria Bolivia," a duet with her sister Mimi Fariña. Here she is, singing and playing her trusty guitar, connecting with her audience, doe-eyed and full-voiced in her signature way.
But below the belt things are different. At 3:56 you see a shot of Joan's behind, and that it doesn't fill out her pants. Her pants fall poorly on her derriere, because there isn't the tone and muscle to hold the folds. Her voice sings, but her glutes hit a flat note.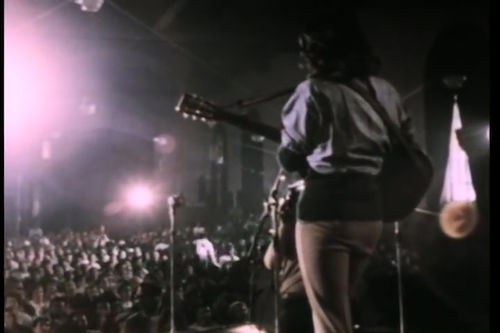 The folds in the fabric of Joan's pants over her backside while standing upright indicate a tucked pelvis and underdeveloped glutes.
Part of the reason her glutes were not developed is that she used to tuck her pelvis, which puts the glutes in a position of mechanical disadvantage. Tucking the pelvis also sets the framework for rounding the upper spine. This curvature — and the pain it caused her neck — is what she came to me for and what we have worked to transform.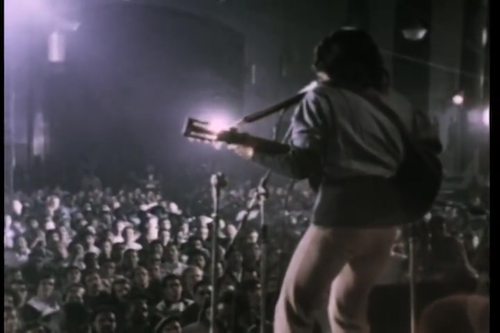 Joan tucking her pelvis while playing guitar and singing.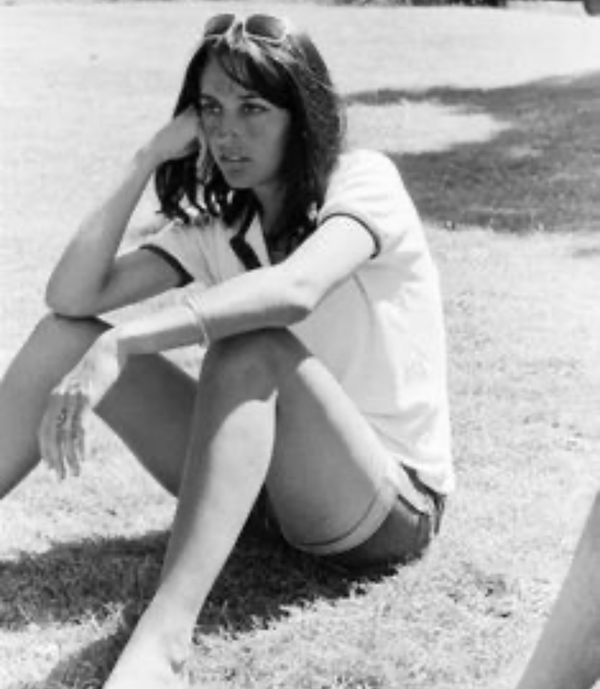 Young Joan demonstrating a tucked pelvis and rounded upper spine while sitting on the grass.
A flat butt and tucked pelvis aren't uniquely Joan's problems. In fact, "glute amnesia" is widespread in our industrialized, increasingly sedentary society. For those of you who share this problem, we've developed a special Free Online Workshop called Wake Up Your Glutes: They Snooze, You Lose. If you are available to attend tomorrow, I will be delighted to teach you how to rouse your glutes in their natural context, which is walking. 
Joan is quite diligent about doing her exercises and staying active. She has also done a lot of self-care in general, for her body, mind, and spirit. The results are obvious: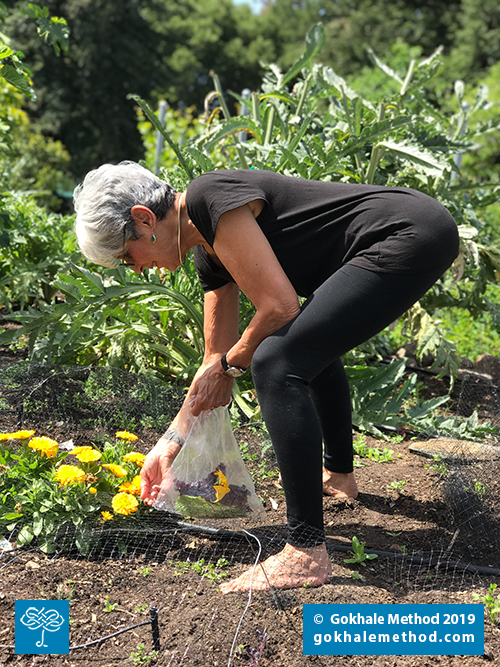 Joan in my garden last year, preparing to pick some calendula with a deep, healthy hip-hinge and her behind well behind.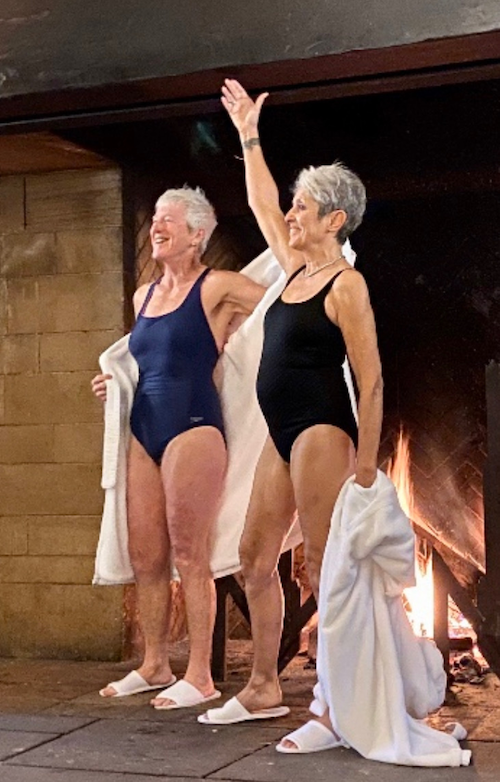 Joan celebrating her 79th birthday at Yosemite. Note her excellent muscle tone and beautiful upright posture. Image courtesy Joan Baez.
The moral of this story is that aging doesn't have to mean decline. You can actually improve with age, as Joan has. Yes, it takes a certain amount of investment and learning and discipline in implementing, but you can change. You can improve. Let's do it! Let's join Joan, let's get our walking shoes, and let's be walking down the line...