This blog post is based on a conversation with and submissions from Deepa Jain, qualified Gokhale Method teacher in the NYC area.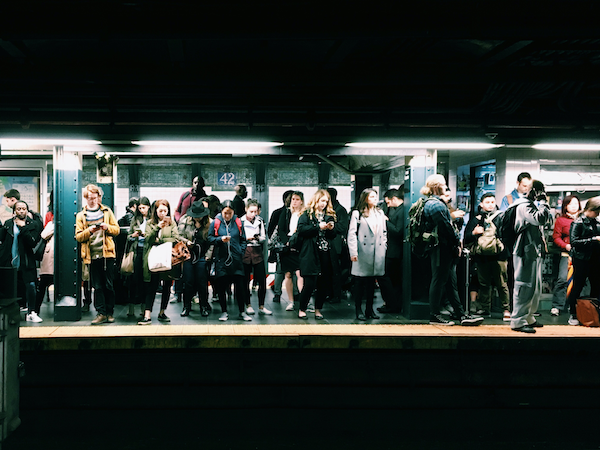 Subway platforms, bus stops, train cars, and buses are ordinarily crowded places. Image courtesy Eddi Aguirre on Unsplash.
NYC-area Gokhale Method teacher Deepa Jain, based in Yonkers, is no stranger to relying on her body to get through the day. She teaches dance as well as the Gokhale Method. Public transportation and her feet shuttle her from one task or errand to the next.
I recently learned of Deepa's specific posture-based responses to the COVID era and was inspired to share her good results. They are helpful reminders of how healthy posture is a practical tool we can take with us in any circumstance, including the uncertain times we are now living through.
"Subway surfing"
A typical day on NYC-area public transportation is often a crowded affair, with standing-room-only subway trains and buses common much of the time. Deepa is accustomed to using a combination of kidney-bean-shaped feet and an active inner corset to maintain her balance on a crowded train. One surprising benefit to the slightly less crowded trains since the shelter-in-place order went into effect is that now, if she happens to drop something on the floor, she can easily hip-hinge to pick it up — without worrying about her bum bumping into someone standing immediately behind her and causing them to lose their balance.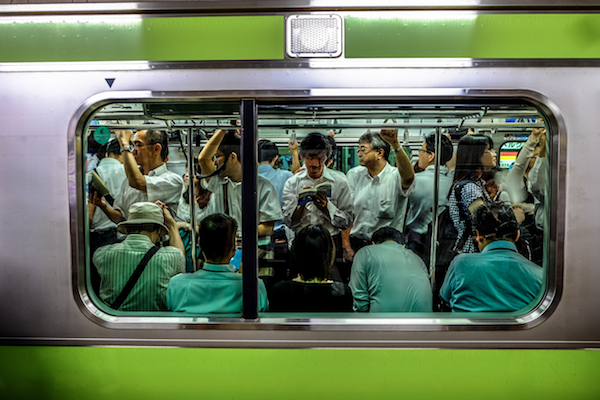 In this pre-COVID-19 image captured in Japan in 2017, commuters pack a subway car during rush hour. Image courtesy Francesco Ungaro on Unsplash.
Creative carrying and headloading
In her usual errands and commutes, Deepa strategically hangs bags and loads on both arms and even carries bundles on her head when necessary. A stabilizing hand on the head-load can help. In the COVID era, she practices head-carrying as an especially useful way of avoiding cross-contamination that could come from resting her items on the bus's or subway car's floor, for example. Again, an active inner corset and strong longus colli muscles — easy to locate and strengthen using a Gokhale Head Cushion — make this type of creative carrying possible.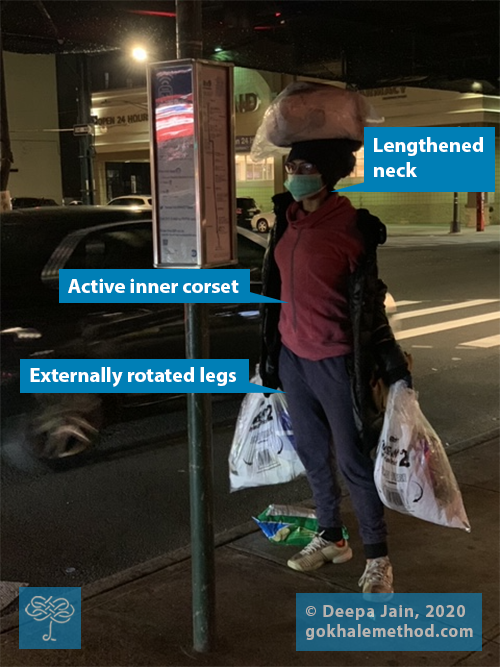 Gokhale Method teacher Deepa Jain using her Gokhale Method training while waiting at a bus stop. Note her lengthened neck, active inner corset, and externally-rotated legs. Image courtesy Deepa Jain.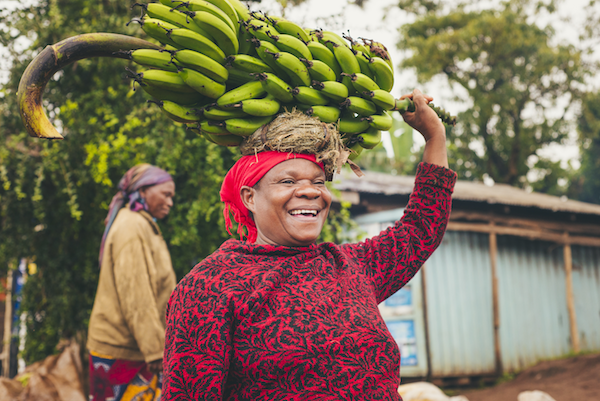 Adding a stabilizing hand while head-carrying can be a useful approach. Image courtesy Gunnar Mallon on Pixabay.
Glidewalking to help keep pathogens outdoors
When arriving home from an occasionally necessary shopping trip, Deepa has devised a system of using elements from glidewalking to minimize the tracking of pathogens into her apartment. By keeping her load on her body and her weight on the back leg (as in glidewalking), Deepa's system lets her carefully unlock her door and slip out of her shoes, one at a time, in the hallway without using her hands to remove her shoes or put her packages directly on the ground. She has a separate decontamination process for her shoes.
Time to reflect
Although Deepa ordinarily cooks at home quite a bit, she's doing so more than ever during her shelter-at-home time. Putting away groceries, gathering ingredients for dinner, and washing dishes at the sink are opportunities for her to refine her hip-hinging skills. Without the hip-hinging elements that protect the muscles, joints, and nerves, bending over a sink or a countertop can put us at risk of injury. Other opportunities for refining hip-hinging rather than causing damage include loading a dishwasher and bending to reach wall outlets to charge the various devices we're more reliant upon than ever.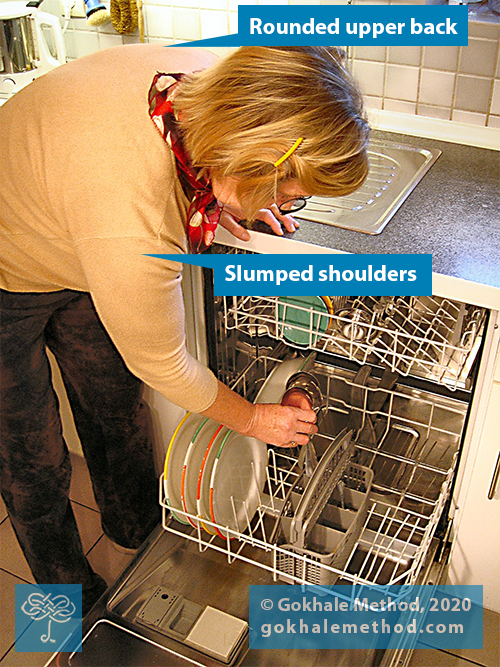 Bending over a sink or to load a dishwasher without hip-hinging (as seen here) can lead to rounding of the upper back, which puts pressure on the spinal discs, nerves, and other tissues. Image courtesy Rudolf Langer on Pixabay.
Since shelter-in-place orders were issued, Deepa had an inspired idea partly inspired by her background in dance: to bring mirrors into her kitchen. She explains her thinking as follows: "I moved these mirrors from another place to where they are now, so I can track my frequent hip-hinges between the lowest vegetable drawers of the fridge to the counter level, to the stove level, to the higher cabinets, to the lower cabinets.
"I placed one mirror in front of the fridge and garbage and recycling cans, and one in front of the sink to observe how I wash my dishes and also how I begin that really low bend for the pot cabinets.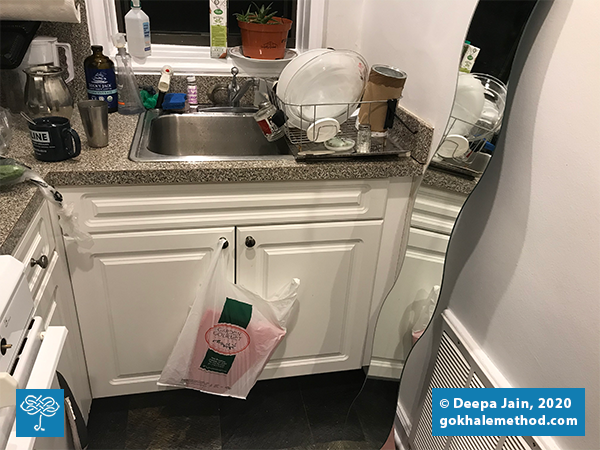 An angled mirror lets Deepa observe her form while using cabinets and the sink in her NYC-area kitchen. Image courtesy Deepa Jain.
"A Gokhale Method teacher has trained extensively, working through the range of in-depth techniques with many different students. It comes as little surprise that Gokhale Method teachers implement this body wisdom throughout their daily lives and have probably thought of additional scenarios and nuances. The learning trajectory, as in any mindfulness practice, never really ends and all students are encouraged to continue their practice including formal continuing education sessions and ongoing coaching."
Minimizing aches, pains, and medical visits
Last but not least, Deepa encourages us all to put our posture practice to good use in reducing and eliminating musculoskeletal pain. In the COVID era in particular, we can actually reduce our in-person visits to medical offices, clinics, and hospitals — thereby reducing pathogen exposure for both ourselves and others, and freeing up medical resources — by using Gokhale Method techniques. With Mother's Day right around the corner, what better gift can we offer our mothers, grandmothers, and other matriarchs and caregivers in our lives than caring for ourselves and our global community?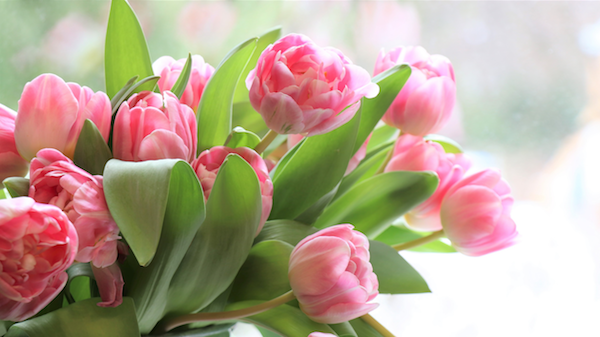 Image courtesy Olga Oginskaya on Pixabay.
We aren't sure how long the current restrictions will last, but striving for sustainability and self-sufficiency makes more sense than ever. Thanks for the inspiration, Deepa!