I'm a longtime cyclist, former elite-level mountain bike racer, and Gokhale Method teacher. Learning and applying Gokhale Method techniques helped me reduce lumbar strain caused by unhelpful posture habits I used to employ while riding. I continue riding to this day, along with my whole family — now free of lower back pain.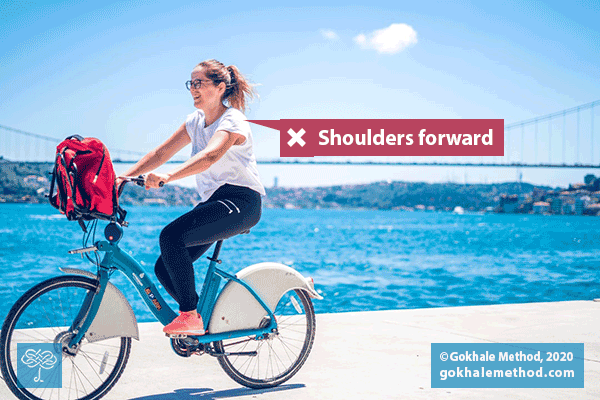 Riding a bike can be a fantastically fun way to get away from devices, boost energy, and practice healthy posture, all in one...and of course we always want to wear a helmet, and ideally have our shoulders more posterior than this rider does! Image courtesy Ümit Yıldırım on Unsplash.
In my humble opinion, bikes are the most perfect exercise equipment of all time. This is especially true for the COVID era! What else serves as a human-powered vehicle that allows you exercise as it transports you to various destinations, all the while engaging your senses and doing no damage to the planet? Furthermore, it is something you can do by yourself or with your family or friends, while still maintaining social distance and is, perhaps most importantly, done outdoors. The wheel base between two bicycles is around 6 feet, so riding with others can be done safely. Add Gokhale Method techniques to the mix, and you've got a recipe for full-body health.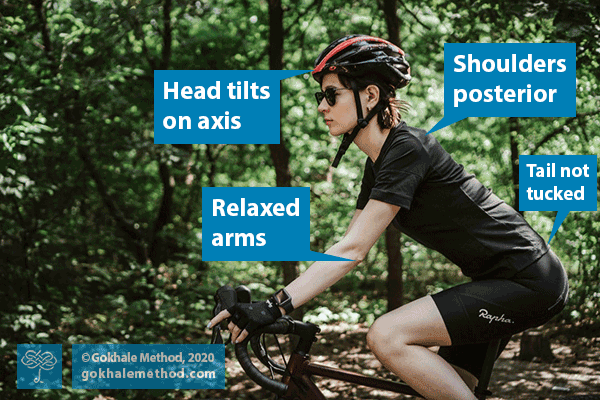 This rider is wearing a helmet, always recommended! Also, her shoulders stay posterior, with a nice give/relaxation in her arms, and her head rotates on its axis. Her behind is not tucked; her tail appears to be behind her. Image courtesy Victor Xok on Unsplash.
Freshen up your routine
While many of us are sheltering at home, and/or working from home, fresh air and movement are vital to our health and well-being, perhaps even more so now than ever! And when more of our time than usual is spent indoors due to lockdown restrictions, experiencing the outdoors more intimately, through our senses observing the horizon and peripheries and making judgements about traffic and road conditions, as well as minute adjustments that occur as a result, can be really invigorating and refreshing and provide a wonderful reset to the stresses of daily life.
The roads are quieter these days, with less traffic than before the pandemic. This makes it an ideal time to dust off your bicycle, put some air in your tires, and if it's been a while, visit your local bike shop for a tune-up. Or perhaps think about increasing the riding you do! You definitely want to make sure your bike fits you well; a good fit will help with comfort and safety.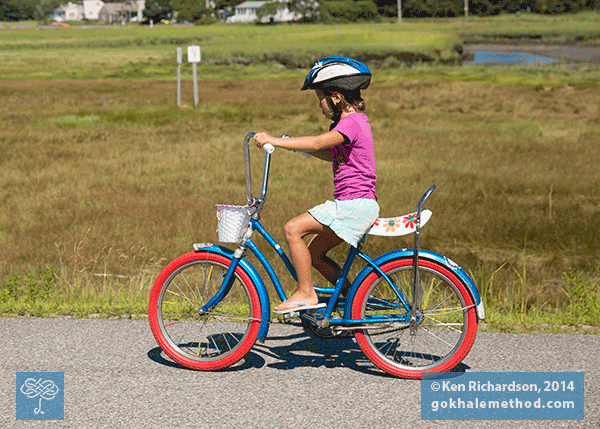 My daughter Wilhelmina Brown, age 5. She hasn't been formally taught how to sit (this photo was taken before I knew better myself), but since she is not yet spending hours in school, she still sits well, with her lovely J-spine intact. Image courtesy Ken Richardson.
Adjusting seat height to support healthy posture
If you are unsure about the right fit, or if you feel too stretched out or too cramped in your torso when on your bike, consult a bike shop. People who work in bike shops love bicycles and want more people to enjoy them too! Your seat wants to be high enough so your leg has only a slight bend at the 6 o'clock position, with the knees not coming up too high either. You want to feel safe and balanced when you are stopped and standing over your bike, with at least a couple of inches of clearance or standover height. Bike shops will be able to guide you about specific bike components — the seatpost and stem, for example, can be adapted to better fit and support the rider. You can also read our founder Esther Gokhale's blog post on choosing a bike style to support your posture while riding if you're thinking of picking up a new 2-wheeler.
The changing season brings with it more comfortable riding weather than even a few weeks ago, whether you're in the Northern Hemisphere or the Southern. And air quality is thankfully improving in the West. There's never been a better time to saddle up and hit the road!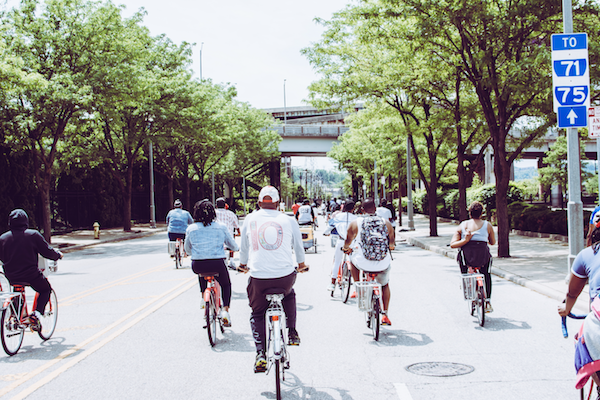 Cycling is a great way to experience community while maintaining social distance and practicing healthy posture. Win-win-win! Image courtesy Ahshea1 Media on Pexels.
This is the first post in a 3-part series on cycling and posture: stay tuned for more to come! For more information on Tiffany's teaching in the Boston area, contact her here.