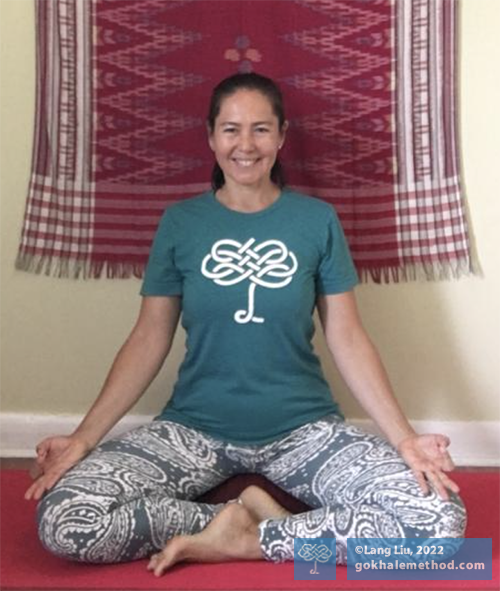 Gokhale Yoga teacher Lang Liu. 
Lang's program includes my two favorite yogic breathing practices and my favorite combination of asanas, sun salutation—and savasana (corpse pose). . .but what I find most compelling is her lovely relaxing voice, gentle posture reminders, and the bliss I leave her classes with.
—Esther Gokhale
If we haven't yet met, my name is Lang, I am a Gokhale Method® teacher, and I also teach Gokhale Yoga. I offer two Gokhale Yoga classes every week as part of our Gokhale Exercise program for subscribers on Tuesdays and Thursdays at 7 a.m. (Pacific Time).
In this blog post I am excited to tell you about four Yoga classes you can try from Tuesday, November 1 until Thursday, November 10, as part of our upcoming 10-day Gokhale Exercise Free Trial which includes 1-2-3 Move, Gokhale Fitness, and Moving Meditation, with teachers Esther Gokhale, Eric Fernandez, Kathleen O'Donohue, Roberta Cooks and Sabina Blumauer.
What makes Gokhale Yoga unique?
Yoga originated in a culture where healthy posture and pain-free backs were the norm. The form of the asana, or yoga postures, also reflected this healthy baseline shape. However, in our culture, most of us come to yoga classes with problematic habits such as swaying the back, rounding our upper backs, or tucking the pelvis, and are then taught by yoga teachers untrained in recognizing poor postural patterns and knowing how best to remedy them. Unfortunately, many common yoga remedies for back pain do more harm than good. You can read more about this in Esther's blog post How Not To Do Yoga.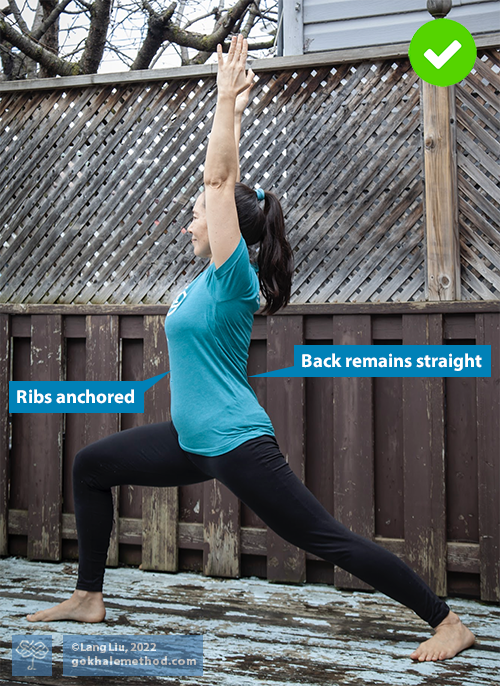 Gokhale Method teacher Lang Liu shows how anchoring your rib cage prevents swaying and compressing your lower back in Warrior/Hero 1 pose. 
In Gokhale Yoga every posture is taught with a "Gokhale filter," so you can be sure that everything you do is safe. In addition, your practice will help you to take healthy posture and movement patterns beyond the duration of the class, into your daily life.
Why do Yoga?
Often people start with physical fitness in mind, and in the course of regular practice they discover benefits taking place on other levels as well: 
Physical—strength, flexibility, circulation, breathing, and of course healthier posture and freedom from pain and other symptoms

Mental—reduced stress and a calmer mind, better sleep, positivity

Energetic—improved flow, digestion, energy, and equilibrium 

Spiritual and personal growth—greater contentment, harmony with yourself, others, and the world around you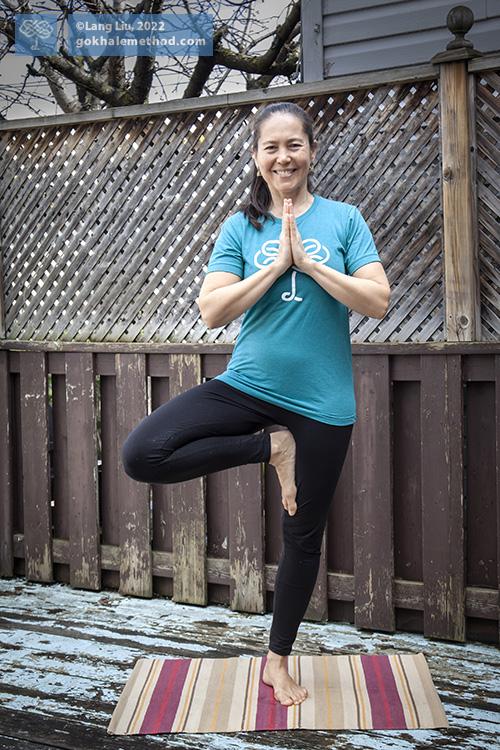 Yoga postures may offer relaxation or physical challenges. Both can be practiced in such a way that they bring calm, balance, and clarity. 
Is Gokhale Yoga suitable for everyone?
Absolutely. You will be able to work at your own pace, and I can usually offer alternative posture options if you need them. Those with yoga experience are often amazed to find how the Gokhale Yoga approach uses and relaxes different sets of muscles! We encourage anyone with complex health issues, recent injuries, or surgeries to first consult with their physician or favorite practitioner.
As well as doing postures, participants can get to enjoy yoga breathing, guided relaxation, and listening to yoga chanting. 
A taste of Gokhale Yoga: Downward Dog pose 
To give you a taste of a pose in a Gokhale Yoga class, you might like to watch this video clip of me guiding students through Downward Dog pose:
Teaching Downward Dog pose.

This still image of me in Downward Dog highlights many of the points we attend to in the pose.
What is Gokhale Exercise?
Gokhale Exercise is informed by the healthy posture principles that we teach in detail in our in-person Foundations Course, Pop-Up course, or online Elements course. 
For people new to the Gokhale Method, this program offers a variety of safe and effective ways to meet your exercise needs. For our Alumni, it offers repetition, review, and refinement, with constant reminders of the posture principles that might otherwise fade and be forgotten.
Whether you are a new or a long-time member of the Gokhale Exercise program, you can enjoy being part of a community where healthy posture is celebrated and taught consistently. Everyone is supported in moving forward on their posture journey.
To join me for Gokhale Yoga, or any Gokhale Exercise activities, sign up for your free Gokhale Exercise trial below. We look forward to seeing you there.
Sign up for the Gokhale Exercise Free Trial
If you would like to find out more about how the Gokhale Method can help support you, sign up to join one of our upcoming FREE Online Workshops. . .