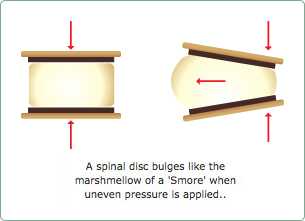 The spinal discs work as padded shock absorbers between the vertebrae. A bulging disc occurs when the coating is worn or weakened, allowing the soft padding to bulge out into the spinal canal. If it impinges on the nerve, it may cause the pain of sciatica. If it irritates the surrounding joints and tissues, a bone spur may result, causing spinal stenosis, or a narrowing of the spinal canal space.
How the Gokhale Method can help
Our approach to healing bulging discs includes restoring normal shape and length to the spine. This may include restoring normal pelvic anteversion, rotating the ribcage forward to decompress the low back, rotating the head forward to decompress the neck, and lengthening and strengthening muscles to decompress portions of or the entire spine.
Where can I learn more?
Health of the spine is central to the Gokhale Method. It is addressed in all parts of the six-session course, Gokhale Method Foundations, and in all chapters of the book: 8 Steps to a Pain-Free Back.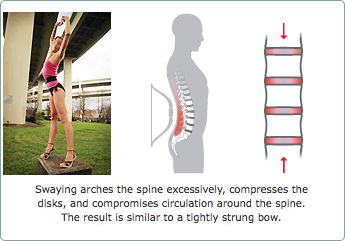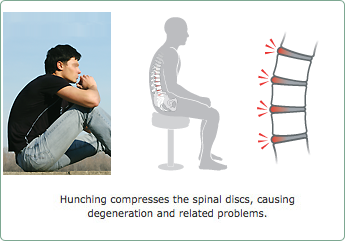 Also called a ruptured disc, prolapsed disc, or slipped disc, a herniated disc occurs when the disc capsule (annulus fibrosis) tears or breaks, and the jelly-like contents of the disc (nucleus pulposus) leak out. Pain or numbness may occur (in the back, buttocks, legs, or feet) if pieces of the broken disc capsule (annulus fibrosis) or its contents (nucleus pulposus) press against or irritate the spinal cord membrane or nerves. Herniated discs are most commonly found in people ages 30-60. Most common in the lumbar spine, herniated discs can cause sciatica (pain, numbness, tingling, or weakness in the leg), and only in the most extreme cases lead to loss of sensory and motor functions in the lower extremities and bladder (cauda equina syndrome). Fortunately, most people suffering from a herniated disc recover within 1 month.
How the Gokhale Method can help
The Gokhale Method uses the same lengthening techniques to address a herniated disc as a bulging disc, except that great care needs to be taken in the case of a herniated L5-S1 disc: it is important to focus on lengthening the spine before restoring pelvic anteversion to ensure that the herniated portion of the disc does not get sequestrated (severed). Lengthening the muscles in the area improves circulation which accelerates healing of the damaged disc(s).
* Information provided is for informational purposes only and is not intended to substitute for medical advice from a healthcare professional.